Anacortes

Boiler Replacement
Anacortes Boiler Replacement, Iron Fireman To Navien

This Anacortes Boiler Replacement project involved this monster of a boiler, this boiler was burning massive amounts of fuel oil to keep my customers home heated, costing them dearly. They felt it was time for a change to something way more efficient and reliable.
A Test Of Time

When ever I remove a old unit like this I try to imagine what the installers where like, where they young or old? And or perhaps how much effort went into installing such a beast back then. At that time this was cutting edge equipment and they where probably extremely proud of the installation.
The Navien Combi/tankless Unit

As you can see the new Navien CH-240 Combi/tankless unit takes up very little room compared to the older monster of a boiler ... and not only does it heat the home, it heats the hot water as well. I have installed a few of these now with very little issues. They work exactly how they are advertised. The only draw back with this Anacortes Boiler Replacement is that it takes a little longer to get hot water compared to the standard Navien NR-210a tankless.
Conclusion
This Anacortes Boiler Replacement turned out great for our customer, the Navien heats both the home and the hot water(endless) and is super efficient. This is one of my favorite installations and I highly recommend doing this for anyone in the same situation.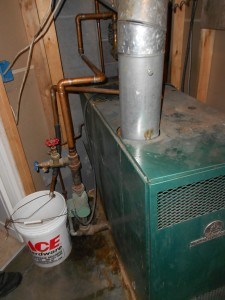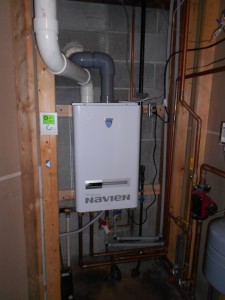 Write

a Comment
Fields with * are required