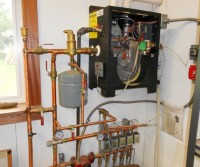 Costly Munchkin Boiler.

Almost every Munchkin boiler we come across has a history of problems. This particular Munchkin just started to have issues ... my customer elected not to go down the costly repair route that these boilers are famous for.
The Flash Boiler

The idea behind this Munchkin Boiler is to flash heat the water, by doing so you have a very small compact unit. BUT in my opinion its this compact design that can led to serious issues, like clogging of the burn chamber and or the heat exchanger itself. This type of clogging can lead to serious costly failures.
Munchkin To Burnham

The new Burnham ECS boiler is a cast iron boiler with an optional outdoor reset, perfect for this application. The Burnham boiler efficiency is a little less than the Munchkin Boiler but I feel it is a more reliable, and will last a lot longer with fewer repair bills.
Conclusion
Flash boilers have very small ports on both the inside and the outside of the exchanger, without proper maintenance they will clog and cause costly repairs.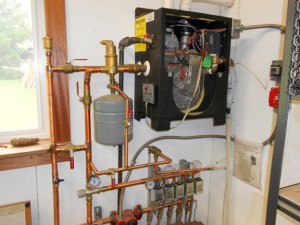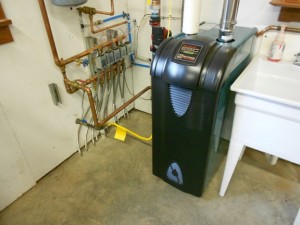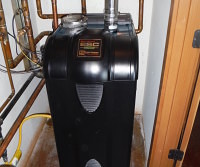 Bow Wa Boiler Replacement.

When it comes to boilers we really don't have a favorite brand or model, we actually look at the situation and then pick a boiler that will actually work the best. That being said, we do have a list of favorite boilers we like to use. In this Bow Wa Boiler replacement the Burnham ESC boiler fit the bill.
Maintenance was the key

Our customer actually had a fairly new high efficient boiler already installed, the problem was it kept breaking down. So much so that he decided to have it replaced with a much simpler boiler. As it turned out we had found that the top of the heat ex-changer was almost totally plugged and the gas pressure going into the boiler was not properly set. All of this was overlooked for years by the company doing his maintenance, and that company was the original installation company.
The Burnham ESC

In this situation we had picked the Burnahm ESC boiler, reason being they are very basic, durable, easy to install and you can add modules to them. The boiler is great in low temperature applications, like for in-floor systems or it can easily handle high heat base boards applications as well.
Conclusion
Make sure when your having maintenance done on your boiler system (especially high efficient systems) that its done properly. A good installation company is not always a good service company.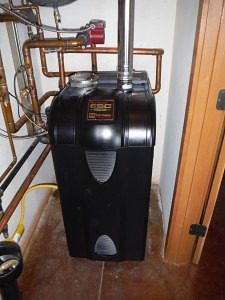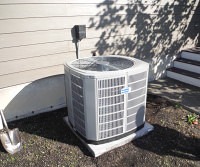 New Clear lake Heat Pump.

I live in Sedro Woolley and of coarse I get to travel all over Skagit County, Clear Lake seems like the secret cut off road from Sedro Woolley to Mount Vernon for local travelers. Honestly I wouldn't mind living in Clear Lake because its like the center of everything. And so is this Clear Lake Heat Pump project.
Heat Pump VS Lp

Currently propane (LP) is like the most expensive way to heat your home, out side of the fact that its a nice hot heat I cant think of any reason why you would choose a LP furnace over a heat pump. In this case my customer is already educated on Heat Pumps, its just a matter of what system he wanted and how much he wanted to spend on his Clear Lake Heat Pump project.
Sometimes It Boils Down To Experience

I can not even begin to tell you how many projects I have been awarded because of experience, and I don't mean because of me bragging to the customer on how many projects we have done. But because I can see things others can not because of my vast field experience. Most sales people in this industry are sales people that where hired away from other industries, with very little HVAC training.
Rheem Combined With American Standard

In this case my customer has a high efficient 90% Rheem furnace. Most companies would want to pull the furnace and sell matching brands. Or at the very least pull the Rheem and install a cased coil under it. But what I see is a fairly new furnace with just enough space to slide in a uncased coil into the existing base can under it. In fact we had 1/2" to spare when we where all said and done.
Conclusion
When you start getting salespeople coming out to give you bids, ask there background, ask how many decades they have installing these types of equipment. You might be surprised to find out that their last sale was a used Ford pickup.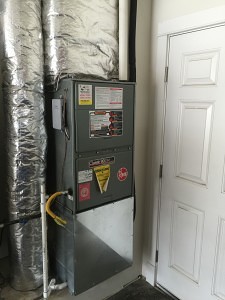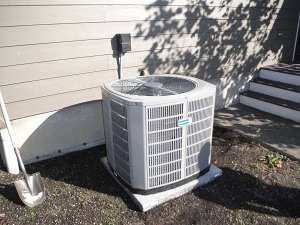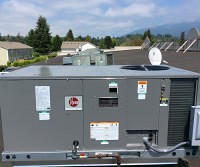 Subway Roof Top Replacement.

I honestly like subway sandwiches ... my favorite subway sandwich is the Subway Club with spicy mustard. But like most people I hate being in a hot restaurant, after all sitting in a nice air conditioned space is part of enjoying your meal.
Always warm at Subway

Subway has had problems from the first day they opened their doors, the space was always hot and uncomfortable, especially during the summer months . Turned out the RHEEM Air Conditioning unit was slightly undersized. And at this point worked so hard it finally gave up. I'm actually surprised it took this long seeing how poorly it was installed.
Rheem to Rheem

In all my years of replacing all types of HVAC equipment around Skagit county I have never in my wildest dreams thought I would see a roof top unit so far out of level. The installer had to be one of the luckiest guys around, considering the drain sloped towards the lower end of the unit. That being said the reason I went back to RHEEM for a replacement was because of the foot print and weight. We try to match up as close to the same dimensions and weight as possible, saving the customer time and money.
Curb modifications

As you can see in the photos we try to have very little roof or curb modifications as possible. If we would have added a curb adapter and or increased the size of the unit dramatically we would have pushed the limits of the engineered trusses. The trusses originally where designed for the weight and size of the existing unit.
Conclusion
In this Subway Roof Top Replacement installation we where able to replace the RHEEM roof top unit with a very close match to the existing units weight and dimensions. We improved on the efficiency and we where able to provide more air conditioning to the space.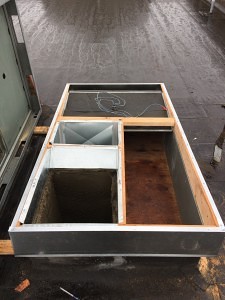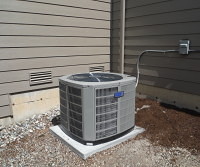 Big Lake Air Conditioning.

One of my favorite places to install heating or cooling equipment is in the big lake area. A small community that is imbedded into the landscape. In this particular Big Lake Air Conditioning installation the home basically over looked big lake, perfect to watch the fourth of July fireworks.
Trane And American Standard

Most people do not realize that Trane is actually manufactured by American Standard, funny thing is that American Standard is a higher rated(according to consumer reports) piece of HVAC equipment than Trane. Although the brand name Trane is more recognized they are literally the same piece of equipment.
When the AC coil wont fit

In this particular application there is simply not enough room to get the new American Standard air conditioning coil into the existing duct system. In any gas furnace application we must install the AC coil down stream of the furnace. What to do? Well most HVAC people know that in a upflow application (such as this) you can either enter the furnace from the bottom or the side. Here we simply dropped the furnace down, entered the return air from the side and add the coil onto the top of the unit.
Air Conditioner Location

Its really not that hard to figure out where to place the air conditioner, I try to avoid putting the AC near a master bedroom and or the neighbors master bedroom, I try to avoid water spigots, clothe drier outlets and or walk ways. I also try to keep as close as I can to the electrical panel. In this case though the panel was literally around the garage and up a slope.
Conclusion
In this Big Lake Air Conditioning installation we where able to install a matching full cased coil onto the existing Trane furnace, run about 40' of refer line set and install a 13 seer American Standard air conditioner on a preformed pad. My customer is going to be very cool this summer.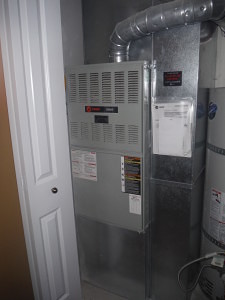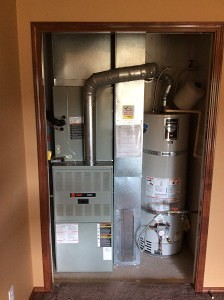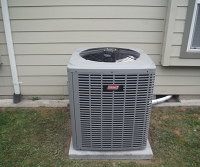 Coleman Mobile Home Heat pump.

Until you actually live in a mobile home you don't realize some of the issues that arise. One such issue is that when installing a fixed appliance it has to be mobile home approved. So when installing a heat pump it has to be mobile home approved, most manufactures do not have mobile home approved equipment. Coleman on the other hand is mobile home approved and offer many models to choose from, including a Mobile Home Heat Pump.
Mobile Home Furnace Coils

In many cases in a mobile home the gas furnace or electric air handler (furnace) is designed to have a heat pump or air conditioner coil added into or onto the cabinet. A lot of the times the furnace will actually have a sticker indicating that a coil can be added and give you choices on sizes. This Coleman furnace had all the information on the blower housing.
Mobile Home Heat Pump kits

Most manufactures actually make kits that are prepackaged for most of the models of furnaces in mobile homes. These kits can include a shelf, some insulation for the cabinet, a control package and filter rack. Now if you get a kit that actually works perfectly, that's a different story.
Heat Pump Location.

Its really not that hard to figure out where to place the Mobile Home Heat Pump, I try to avoid putting the heat pump near a master bedroom and or the neighbors master bedroom, I try to avoid water spigots, clothe drier outlets and or walk ways. I also try to keep as close as I can to the electrical panel.
Conclusion
In this Coleman Mobile Home Heat Pump installation we where able to install a MH kit onto the existing air handler, run about 40' of refer line set and install a 14 seer Coleman heat pump on a preformed pad. My customer is going to be very cool this summer and enjoy low heating bills this winter.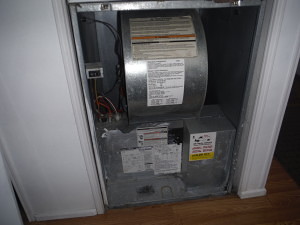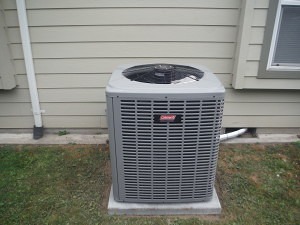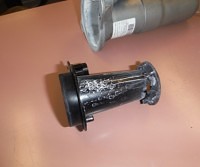 If you own a Weil Mclain Ultra Boiler, this article is for you.
We have a customer in Anacortes WA with a WEIL McLAIN Ultra Boiler 105. Their boiler is propane (LP), uses a side wall termination kit provided by WEIL MCLAIN and is on the coast pulling in salt air for combustion. This particular boiler has given us trouble for many years. Usually boiling down to a bad air fuel mixture, but on occasion we had to replace parts. All done with tech support on the phone.
WEIL McLAIN Ultra Boiler Venturi

This last service call shed some light on some of the issues, the venturi was compromised, literally falling apart. When we contacted tech support about the venturi they stated that the venturi only has a life expectancy of 5 years! Not only where we shocked to hear the 5 years, we where even more shocked that the existing venturi was replaced by Alpine Heating And Cooling only 2 years ago.
High Maintenance

If you own the WEIL McLAIN Ultra-105 boiler or considering purchasing one, keep in mind they require a yearly maintenance. The yearly maintenance has to be done with a kit that they supply, that kit is expensive and the labor to perform this maintenance is extensive. Also keep in mind that every 5 years you maybe buying the ULTRA-105 gas valve replacement kit #383-501-030, also very expensive. On a final note we share service information with another service contractor in our area, they as well are having issues with another  WEIL McLAIN Ultra boiler ... but model Ultra 80. So we don't know if this problem is just for the model 80 and 105 or spreads to all sizes.
Conclusion
The WEIL McLAIN Ultra boiler is not a boiler Alpine Heating and Cooling recommends, especially if you're LP and or living on or near salt water. Keep in mind the boiler is a high maintenance and is very expensive to repair.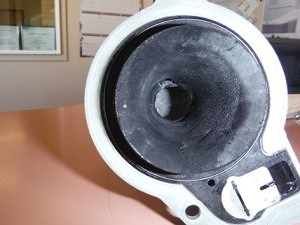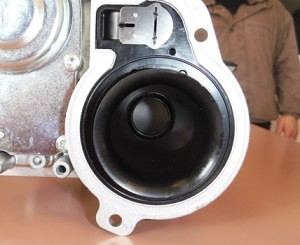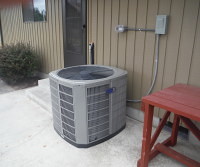 Mix Matched Heat Pump in Skagit County.

When it comes to heat pumps a lot of people don't fully understand that you still need a 2nd source of heat. A heat pump will only work down to about 32 degrees, after that we need to switch over to an electric, gas, LP or oil furnace. In some cases their existing furnace will work just fine, and if they/we get lucky we can even install the HP coil directly into their furnace, such is the case here.
American Standard With Lennox

In this case of a mix matched heat pump we have an older Lennox electric furnace (that's in great shape) with a 3 ton blower. This furnace was designed to have a heat pump or air conditioning coil installed directly into it. There is actually a rail system setup and a filter system designed for the coil. Of course it was originally designed for a Lennox coil.
Fitting In The New Coil

The trick to fitting a coil into an older piece of equipment is the physical size of the coil versus the space it goes into. We also have to make sure the existing furnace can actually produce the air we need for the new system. Years ago our coils where much smaller, the reason they grew in size was because of efficiency, the larger the coil the more efficient the system can get. And with today's minimum standards the coils are much larger.
All Working Great

We where able to find an American Standard heat pump coil that fit (with a custom modification to the rails) into the existing Lennox furnace. The new American Standard heat pump(mix matched heat pump) matched up to the coil and the Lennox furnace produces more than enough air. With a few modifications to the control system and a new Honeywell thermostat we had that old Lennox electric furnace turned into a full heat pump system.
Conclusion
We actually saved our customer a lot of money by not selling him a complete system rather converting his existing furnace to a heat pump. He will see his bills drop dramatically and of course he gets air conditioning.