Bow

Wa Boiler Replacement
Bow Wa Boiler Replacement.

When it comes to boilers we really don't have a favorite brand or model, we actually look at the situation and then pick a boiler that will actually work the best. That being said, we do have a list of favorite boilers we like to use. In this Bow Wa Boiler replacement the Burnham ESC boiler fit the bill.
Maintenance was the key

Our customer actually had a fairly new high efficient boiler already installed, the problem was it kept breaking down. So much so that he decided to have it replaced with a much simpler boiler. As it turned out we had found that the top of the heat ex-changer was almost totally plugged and the gas pressure going into the boiler was not properly set. All of this was overlooked for years by the company doing his maintenance, and that company was the original installation company.
The Burnham ESC

In this situation we had picked the Burnahm ESC boiler, reason being they are very basic, durable, easy to install and you can add modules to them. The boiler is great in low temperature applications, like for in-floor systems or it can easily handle high heat base boards applications as well.
Conclusion
Make sure when your having maintenance done on your boiler system (especially high efficient systems) that its done properly. A good installation company is not always a good service company.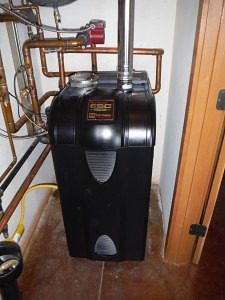 Write

a Comment
Fields with * are required