Bradford

White combi-core
Bradford White combi-core
Bradford White combi-core not heating
Every once in awhile you come across a good install, but poor design. Here we have a Bradford White combi-core (Boiler) hwt. These tanks heat both the domestic and hydronic water without mixing the two. The first thing I look for when I'm called out on a no heat boiler call is water pressure, and in this case there was no gauge. Not only was there no gauge...there was no pressure relieve valve. I determined there was massive amounts of air in the system, the pressure regulating valve was shot (no water coming in), and their expansion tank was faulty.
What we replaced and added
I replaced the expansion tank, replaced the cheap pressure regulator valve, added a pressure relieve valve and pressure gauge. Now if they ever have issues again with their Bradford White combi-core at least the tech can see if there is pressure in the system ... and if the pressure gets to high it has a place to go. I also found a faulty Wirsbo zone valve, and of course replaced it as well.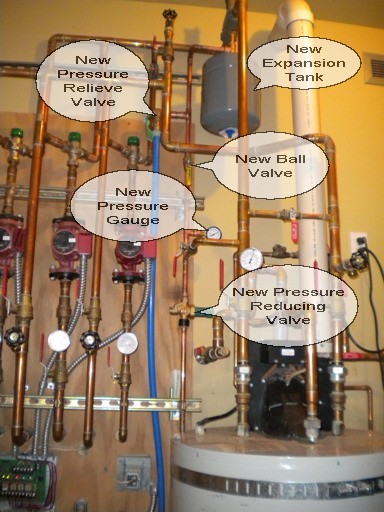 Write

a Comment
Fields with * are required