Is Your Money Flying out the Window?
Most folks don't enjoy paying more than they need to, or paying for something they aren't getting. When it comes to heating (and cooling) your home, you may be doing exactly that. How can you find out? A home energy assessment can tell you where the energy you're paying for is going. Efficient energy use is smart money management
Your Personal Comfort – the True Test
A more personal test is to compare your comfort level in your home with the comfort level of your wallet or pocketbook. Are you paying more than you'd like to, but you still aren't warm in winter and cool in summer? While this sacrifice may have been necessary in the past, today's new technologies and heating/cooling systems can pay for themselves with savings in a few years, then keep on saving you money for years to come. There are even rebates and incentives to help you out.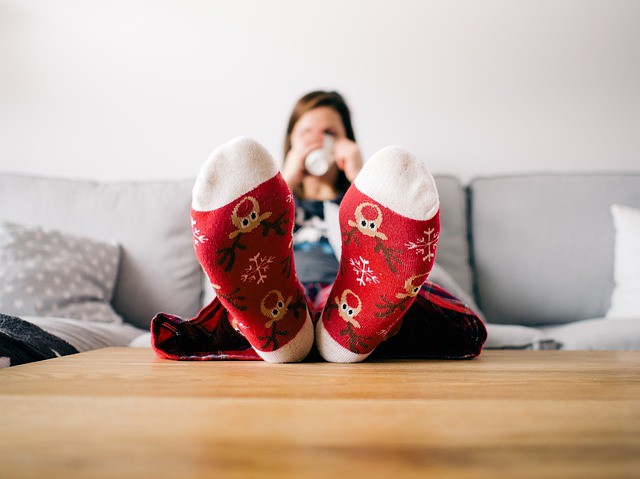 Efficient Energy Use Begins With a Tight Building Envelope
As in the video above, it's important to stop your expensive heated or cooled air from leaving for as long as possible. A tight building envelope is a must. Once you've checked your insulation and sealed up the windows it's time to address another area of loss – the equipment used to heat and cool your home.
Here is a quick overview of some of the systems and technologies Alpine Heating and Cooling installs and how they can save you money.
Heat Pumps
A heat pump is a device that transfers heat from a colder area to a hotter area("against the gradient") by using mechanical energy, as in a refrigerator. While that may not sound like it could heat your home, the fact is there is heat energy all around us waiting to be harvested. A heat pump can move this heat from the air (air source heat pump) or the ground (ground source heat pump) into your home. Think of it like a refrigerator in reverse.
Here is a terrific, short video of an air-source heat pump showing operation in both summer (air conditioning) and winter (heating) modes.

Natural Gas Furnace
A natural gas furnace is a popular and smart choice for home heating in the Skagit Valley. Natural gas is available to most homes, is clean burning, and modern gas furnaces can achieve as high as 98.5 efficiency ratings while lasting for 15-30 years with regular maintenance.¹
Also according to energy.gov, between 2007 and 2012 the average U.S. household spent $700 annually to heat with natural gas versus $1700 per year to heat with oil. A new, high-efficiency gas furnace can save you money, especially if you are moving from an older, lower-efficiency oil furnace.
Ductless Mini Split
A Ductless Mini Split heat pump system can decrease your energy bill in several ways.
Ducting can lose 10-40% of the heat or cool they carry before it reaches you, even more if there are serious breaks or leaks, which often go unnoticed in attics and crawlspaces. Ditch the ducts, ditch the loss.
Mini splits can be used "zonally" to heat and cool individual rooms or floors. You don't need to heat or cool your entire house to the same degree if you aren't using most of it.
The modern heating and cooling technologies used in ductless mini splits are more efficient than their older counterparts.
Programmable Thermostats
Any on-demand heating system including furnaces, heat pumps, and mini-splits can benefit from the proper use of a programmable thermostat. A programmable thermostat can help save you money when you're away or asleep so that there's more left over to keep you warm or cool when you're home and awake.
By using "setbacks" (cooler settings in the winter and warmer settings in the summer) for times when you don't need the full effect of heat or air conditioning, you can see a reduction in your utility bill with no change in your comfort level. Your programmable thermostat can turn your heat down when you leave for work or go to sleep and turn it back up just before you wake or return home in the evening, all automatically.
You won't have to remember to turn the thermostat down when you leave the house or wait for the house to warm up when you arrive home in the evening.
Energy Star Rebates and Incentives
Be sure to check out our rebates and incentives page to find out how much money you can receive toward installing new, highly-efficient, quiet, and dependable heating and cooling equipment. We've put together a list that includes state, federal, local, and utility-based incentives.
Ask Us How You Can Save
Give us a call with your questions. We'd be happy to answer them over the phone if we can, or come out and have a look. Alpine has installed new, more efficient heating and cooling systems for thousands of satisfied customers in the Skagit Valley, from Sedro-Wooley to Burlington to Anacortes and beyond.
Alpine Heating And Cooling Inc.
1957 Park Lane
Burlington Wa 98233
Phone (360) 755-5146 and (360) 293-6210
Email Gary@alpineheat.com
¹ energy.gov: energy saver 101 infographic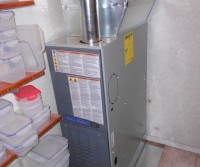 Sedro Woolley Furnace Replacement.

Here we are again, decision time for another one of our customers.… do we put money into our older gas furnace or replace it. I try to be as honest as I can with people when making this decision. I look at age of the furnace versus the cost of the repairs and then the cost of the future repairs based on my experience. And in this case it was time for this Sedro Woolley furnace replacement.
Where did the quality go

I certainly see a lot of the York Diamond 80% in Skagit County, in fact I use to be a York dealer back when this furnace was actually installed. At that time York made a very good furnace. I personally have sold, serviced and installed 100's of them, but today, based on actual field experience and experience with many other different brands I would say York and or Coleman all made by Johnson Controls have taken a big hit in the quality of their product.
The American Standard 80%

The new American Standard 80% gas furnace did require a little bit of modifications to the return ducting, as well as eliminating the angled base-can that the customer kept stubbing their toes on. We also added a Custom 4″ filter bank to the system, we just had to make a custom door for access because of the venting. Overall this Sedro Woolley Furnace Replacement project went fairly smooth.
Conclusion
Like I have stated on many occasions in Alpines blog before, American Standard is my choice of equipment to install, this is based on the fact I have sold, serviced and installed many other brands. I only like to install equipment that gives me the least call backs … American Standard is that equipment.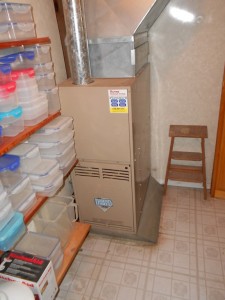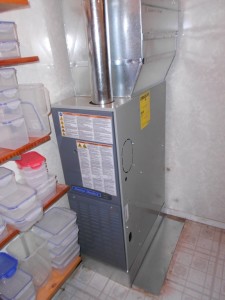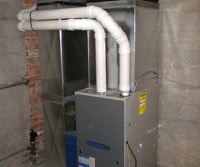 Mount Vernon WA Church Furnace
There are certain types of heating and cooling projects that really appeal to me, these projects generally have the biggest impact or affect for the customer and are usually the most challenging. This Mount Vernon WA Church Furnace project was for the Church Of Christ in Mount Vernon, their oil furnace was from 1951 and it was a monster. Time for a upgrade!
The Monster In The Room

The furnace was located in the church basement in a room about 9′ by 9′ and it consumed most of that room. I had to stand back out of the room just to take a good picture. One of the biggest challenges with small community Church's is the furnace sizing. A lot of small Church's only get occupied say 1 to 2 times per week and the rest of the time the furnace generally stays off. So you have to consider raising the temperature say from 50 degrees to 70 degrees just for a few hours, and within a short period of time. And of coarse keeping the noise level down. Perfect for the American Standard 95% 2 Stage Variable.
American Standard, To The Rescue.

One of the complaints from the church was the down stairs always seemed cold, and even though they had damper controls to help with this issue it never seemed to work correctly, therefore they abandoned that part of the system and went to space heaters. The American Standard 95% Variable 2 Stage furnace with a Honeywell 4″ pleated filter system (above) was installed to deal with just the down stairs, fortunately the existing duct work was zoned to do just that. As you can see the foot print is much smaller than the oil furnace.
Conclusion
Churches have a very unique situation when it comes to heating and cooling demands. In this Mount Vernon WA Church Furnace project an American Standard 95% gas furnace worked out perfectly.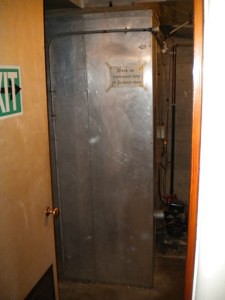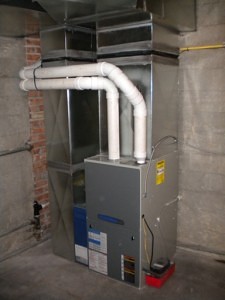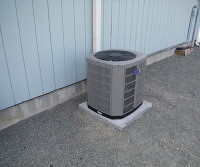 Simple Sedro Woolley Air Conditioner.
This year we have sold and installed record numbers of air conditioners. In this case we actually replaced the existing gas furnace with a new American Standard furnace at the same time. Seeing how the home was fairly small the customer decided against a high efficiency furnace. In reality the difference would have only been about a 15% savings on a very small gas bill.
American Standard Furnace
As you can see the new furnace installed right next to the washer and dryer in the utility room, nice tight fit. Seeing how it was the same efficiency there was no need for redoing the venting. We did have to cut down the existing base can to make the coil fit, everything else just got reconnected.
Air Conditioner Location

When it comes down to it there is a compromise when I look at the Air Conditioners location. I have to think about the refrigeration lines from the indoor coil and the high voltage lines coming from the panel. I also have to think about cosmetics, no one wants an air conditioner located in the front of their home. Overall this Sedro Woolley Air Conditioner turned out great.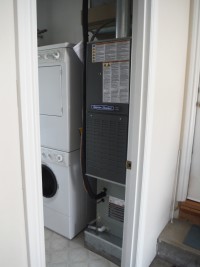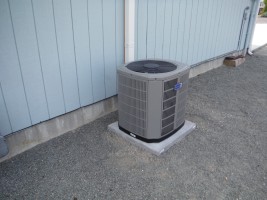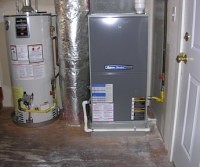 American Standard 95 .. again
I love upgrading customers equipment, here we upgraded our customer from a single stage 80% to a new American Standard 90 to 95 variable speed 2-stage gas furnace. Not only will this furnace run much quieter than their existing furnace, but it will also save them 5% more on their heating bill.
American Standard  is a Trane
The first picture is the older furnace and hot water heater. The Trane unit was and still is manufactured by American Standard.
Bradford White Tank
As you can see we also replaced the existing hot water heater with a new Bradford white water heater. I have installed many brands of hot water heaters, I prefer Bradford White. I will usually discount the hot water tank when replacing the furnace at the same time.
Furnace Room Heater?
Can you imagine trusting a mechanical contractor you hired over Craig's list to install a room heater in your living room while you where at work? These people came home to a full sized furnace installed in their living room, all they wanted was a room heater. Can you imagine trying to watch TV as this furnace ramps up to heat your home? Now imagine that you paid him in FULL already!
I actually looked up the contractor who installed this furnace, he has no contractor license, he has no bond, he is not insured and on his proposal he asked the check to be made out in his personal name! Even though on his invoice he was clearly charging tax! Normally I would be the first in line to turn this contractor in, but the customer actually beat me to it.
PLEASE when hiring a contractor, do a little homework. And Don't do a Living Room Furnace
Lennox to American Standard
Years ago I use to be an Lennox furnace dealer ... and way before that I use to install Lennox furnaces for a local company.
I can not tell you how many Lennox pulse furnaces I have installed, but I can tell you I absolutely hated the Lennox pulse because of the noise it produced. Because of the way it burns its fuel it creates a pulsing/knocking sound that is so annoying it will drive you out of your home. We literally had to install mufflers and vibration pads to try to help bring down the noise.
Here we have a 100,000 btu Lennox pulse, the grand daddy of noise makers. Seeing this old knocker reminded of my early days installing when I was in my early 20's. Fortunately for my customer there is the new American Standard 95% Variable 2 stage gas furnace that is mouse whisper compared to the pulse.
Lennox to American Standard  ... Cont.
I had to replace the existing venting with larger 3" PVC, do a few duct changes and added a Honeywell 4" pleated filter bank. Other than that the job went fairly smooth. And because the existing thermostat location could not be moved easily we went with a Honeywell wireless thermostat. If you want to move your thermostat location but cant because of wiring issues ... use the wireless... very cool.
Payne Furnace Replacement To American Standard
Why Alpine Heating
I would say about 80% of my customers that do furnace replacements choose Alpine Heating And Cooling because they have been our customer for years and trust us, the other 20% do their due diligence on equipment before selecting us. Its always a nice feeling when a customer comes back because we carry American Standard and they want a quality piece of equipment.
Now you obviously can not tell just from the photo, but this furnace was just a little undersized for the home, fortunately the base can and the rest of the ducting was sized for the home. This made it fairly simple to do the replacement. It is not uncommon for heating companies to use the same base can for every application, this makes it easier for the fab shop and the crew setting the base can.
The new American Standard 95% Variable 2 Stage fit right on the older base can, I simply had to make a offsetting transition and reconnect. The venting had to be rerouted to the other side of the garage and a condensate line added, but other than that this was a fairly simple replacement.
Now in this case and well as many others We offered a discount to replace their hot water tank at the same time as I replace the furnace. In this case I replaced the older hot water tank with a new 50 gallon Bradford White Tank.
Need a Heat Pump, Air Conditioner, Furnace, Boiler or Tankless Water Heater? We install them all over Skagit county including Mount Vernon WA, Burlington WA, Anacortes, Sedro Woolley, La Conner, Stanwood WA, and on Camano Is.