Is Your Money Flying out the Window?
Most folks don't enjoy paying more than they need to, or paying for something they aren't getting. When it comes to heating (and cooling) your home, you may be doing exactly that. How can you find out? A home energy assessment can tell you where the energy you're paying for is going. Efficient energy use is smart money management
Your Personal Comfort – the True Test
A more personal test is to compare your comfort level in your home with the comfort level of your wallet or pocketbook. Are you paying more than you'd like to, but you still aren't warm in winter and cool in summer? While this sacrifice may have been necessary in the past, today's new technologies and heating/cooling systems can pay for themselves with savings in a few years, then keep on saving you money for years to come. There are even rebates and incentives to help you out.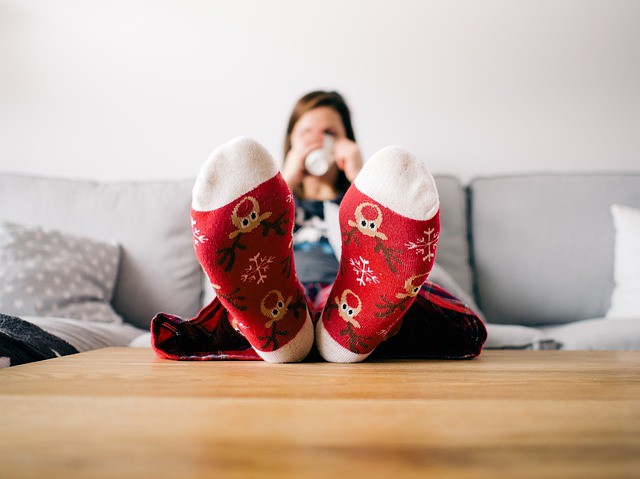 Efficient Energy Use Begins With a Tight Building Envelope
As in the video above, it's important to stop your expensive heated or cooled air from leaving for as long as possible. A tight building envelope is a must. Once you've checked your insulation and sealed up the windows it's time to address another area of loss – the equipment used to heat and cool your home.
Here is a quick overview of some of the systems and technologies Alpine Heating and Cooling installs and how they can save you money.
Heat Pumps
A heat pump is a device that transfers heat from a colder area to a hotter area("against the gradient") by using mechanical energy, as in a refrigerator. While that may not sound like it could heat your home, the fact is there is heat energy all around us waiting to be harvested. A heat pump can move this heat from the air (air source heat pump) or the ground (ground source heat pump) into your home. Think of it like a refrigerator in reverse.
Here is a terrific, short video of an air-source heat pump showing operation in both summer (air conditioning) and winter (heating) modes.

Natural Gas Furnace
A natural gas furnace is a popular and smart choice for home heating in the Skagit Valley. Natural gas is available to most homes, is clean burning, and modern gas furnaces can achieve as high as 98.5 efficiency ratings while lasting for 15-30 years with regular maintenance.¹
Also according to energy.gov, between 2007 and 2012 the average U.S. household spent $700 annually to heat with natural gas versus $1700 per year to heat with oil. A new, high-efficiency gas furnace can save you money, especially if you are moving from an older, lower-efficiency oil furnace.
Ductless Mini Split
A Ductless Mini Split heat pump system can decrease your energy bill in several ways.
Ducting can lose 10-40% of the heat or cool they carry before it reaches you, even more if there are serious breaks or leaks, which often go unnoticed in attics and crawlspaces. Ditch the ducts, ditch the loss.
Mini splits can be used "zonally" to heat and cool individual rooms or floors. You don't need to heat or cool your entire house to the same degree if you aren't using most of it.
The modern heating and cooling technologies used in ductless mini splits are more efficient than their older counterparts.
Programmable Thermostats
Any on-demand heating system including furnaces, heat pumps, and mini-splits can benefit from the proper use of a programmable thermostat. A programmable thermostat can help save you money when you're away or asleep so that there's more left over to keep you warm or cool when you're home and awake.
By using "setbacks" (cooler settings in the winter and warmer settings in the summer) for times when you don't need the full effect of heat or air conditioning, you can see a reduction in your utility bill with no change in your comfort level. Your programmable thermostat can turn your heat down when you leave for work or go to sleep and turn it back up just before you wake or return home in the evening, all automatically.
You won't have to remember to turn the thermostat down when you leave the house or wait for the house to warm up when you arrive home in the evening.
Energy Star Rebates and Incentives
Be sure to check out our rebates and incentives page to find out how much money you can receive toward installing new, highly-efficient, quiet, and dependable heating and cooling equipment. We've put together a list that includes state, federal, local, and utility-based incentives.
Ask Us How You Can Save
Give us a call with your questions. We'd be happy to answer them over the phone if we can, or come out and have a look. Alpine has installed new, more efficient heating and cooling systems for thousands of satisfied customers in the Skagit Valley, from Sedro-Wooley to Burlington to Anacortes and beyond.
Alpine Heating And Cooling Inc.
1957 Park Lane
Burlington Wa 98233
Phone (360) 755-5146 and (360) 293-6210
Email Gary@alpineheat.com
¹ energy.gov: energy saver 101 infographic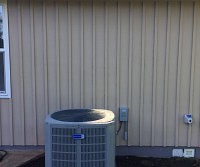 New Bow Wa Heat Pump.

One of my favorite places in Skagit County is the Bow area. Most of the homes are scattered out and seem to have a fair amount of land. The town of Edison is close by and the Padilla Bay Shore Trail is a great place to take your dog for a walk. This is the area for our Bow Wa Heat Pump project.
Heat Pump VS Lp

Currently propane fuel(LP) is like the most expensive way to heat your home or business, out side of the fact that its a nice hot heat I can not think of any reason why you would choose a propane(LP) furnace over a heat pump. My customer in this case wasn't really thinking about a heat pump, but after educating him a little on the benefits and him doing his own due diligence.... he was sold.
American Standard, The Perfect System?!

I know I know ... I brag a lot about American Standard equipment, there are very good reasons why. Besides of all the countless pieces of equipment that we have installed that have had very little to no issues, American Standard has been listed either #1 or #2 for many years in Consumer Reports, competing only with Trane, and for your information American Standard makes Trane. So if you're not going to take my word for it, look it up in Consumer Reports.
Conclusion
American Standard is in my opinion the best piece of residential equipment on the market today. Matching up a LP furnace and a good efficient Heat Pump will save you tons of money and give you years of great service.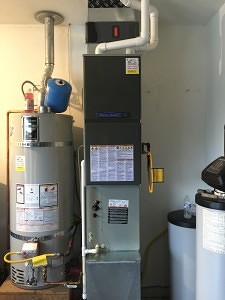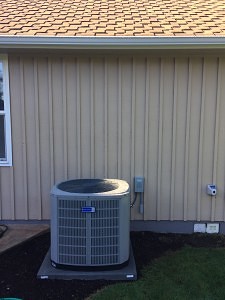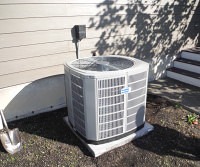 New Clear lake Heat Pump.

I live in Sedro Woolley and of coarse I get to travel all over Skagit County, Clear Lake seems like the secret cut off road from Sedro Woolley to Mount Vernon for local travelers. Honestly I wouldn't mind living in Clear Lake because its like the center of everything. And so is this Clear Lake Heat Pump project.
Heat Pump VS Lp

Currently propane (LP) is like the most expensive way to heat your home, out side of the fact that its a nice hot heat I cant think of any reason why you would choose a LP furnace over a heat pump. In this case my customer is already educated on Heat Pumps, its just a matter of what system he wanted and how much he wanted to spend on his Clear Lake Heat Pump project.
Sometimes It Boils Down To Experience

I can not even begin to tell you how many projects I have been awarded because of experience, and I don't mean because of me bragging to the customer on how many projects we have done. But because I can see things others can not because of my vast field experience. Most sales people in this industry are sales people that where hired away from other industries, with very little HVAC training.
Rheem Combined With American Standard

In this case my customer has a high efficient 90% Rheem furnace. Most companies would want to pull the furnace and sell matching brands. Or at the very least pull the Rheem and install a cased coil under it. But what I see is a fairly new furnace with just enough space to slide in a uncased coil into the existing base can under it. In fact we had 1/2" to spare when we where all said and done.
Conclusion
When you start getting salespeople coming out to give you bids, ask there background, ask how many decades they have installing these types of equipment. You might be surprised to find out that their last sale was a used Ford pickup.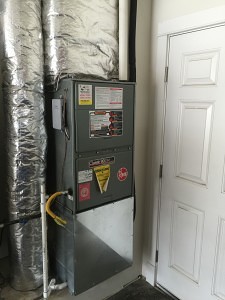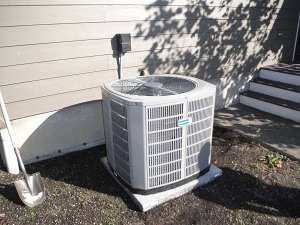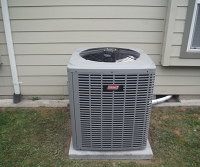 Coleman Mobile Home Heat pump.

Until you actually live in a mobile home you don't realize some of the issues that arise. One such issue is that when installing a fixed appliance it has to be mobile home approved. So when installing a heat pump it has to be mobile home approved, most manufactures do not have mobile home approved equipment. Coleman on the other hand is mobile home approved and offer many models to choose from, including a Mobile Home Heat Pump.
Mobile Home Furnace Coils

In many cases in a mobile home the gas furnace or electric air handler (furnace) is designed to have a heat pump or air conditioner coil added into or onto the cabinet. A lot of the times the furnace will actually have a sticker indicating that a coil can be added and give you choices on sizes. This Coleman furnace had all the information on the blower housing.
Mobile Home Heat Pump kits

Most manufactures actually make kits that are prepackaged for most of the models of furnaces in mobile homes. These kits can include a shelf, some insulation for the cabinet, a control package and filter rack. Now if you get a kit that actually works perfectly, that's a different story.
Heat Pump Location.

Its really not that hard to figure out where to place the Mobile Home Heat Pump, I try to avoid putting the heat pump near a master bedroom and or the neighbors master bedroom, I try to avoid water spigots, clothe drier outlets and or walk ways. I also try to keep as close as I can to the electrical panel.
Conclusion
In this Coleman Mobile Home Heat Pump installation we where able to install a MH kit onto the existing air handler, run about 40' of refer line set and install a 14 seer Coleman heat pump on a preformed pad. My customer is going to be very cool this summer and enjoy low heating bills this winter.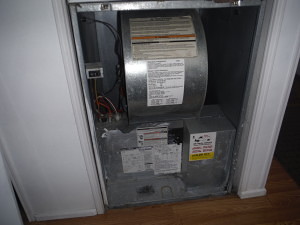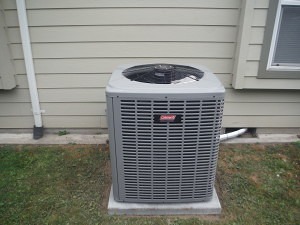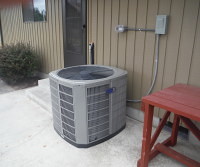 Mix Matched Heat Pump in Skagit County.

When it comes to heat pumps a lot of people don't fully understand that you still need a 2nd source of heat. A heat pump will only work down to about 32 degrees, after that we need to switch over to an electric, gas, LP or oil furnace. In some cases their existing furnace will work just fine, and if they/we get lucky we can even install the HP coil directly into their furnace, such is the case here.
American Standard With Lennox

In this case of a mix matched heat pump we have an older Lennox electric furnace (that's in great shape) with a 3 ton blower. This furnace was designed to have a heat pump or air conditioning coil installed directly into it. There is actually a rail system setup and a filter system designed for the coil. Of course it was originally designed for a Lennox coil.
Fitting In The New Coil

The trick to fitting a coil into an older piece of equipment is the physical size of the coil versus the space it goes into. We also have to make sure the existing furnace can actually produce the air we need for the new system. Years ago our coils where much smaller, the reason they grew in size was because of efficiency, the larger the coil the more efficient the system can get. And with today's minimum standards the coils are much larger.
All Working Great

We where able to find an American Standard heat pump coil that fit (with a custom modification to the rails) into the existing Lennox furnace. The new American Standard heat pump(mix matched heat pump) matched up to the coil and the Lennox furnace produces more than enough air. With a few modifications to the control system and a new Honeywell thermostat we had that old Lennox electric furnace turned into a full heat pump system.
Conclusion
We actually saved our customer a lot of money by not selling him a complete system rather converting his existing furnace to a heat pump. He will see his bills drop dramatically and of course he gets air conditioning.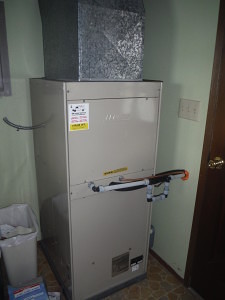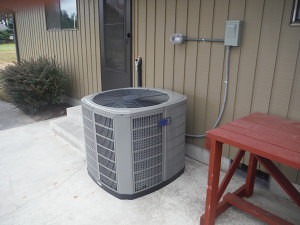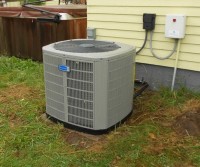 Carrier Heat Pump Replaced
The Carrier Heat Pump never worked right
Sometimes things are not always as they appear, at first glance this looked like a straight forward Carrier Heat pump change out. The ducting is there, the line sets and the electrical. So I took some measurements, took some pictures and went back to the office to work up a bid.
What caught my eye
What caught my eye is what changed everything for me on this project. I noticed the motor HP and amp draw had been changed on the manufactures label. There is only one reason a technician would change motor HP ... duct issues, specifically return duct issues. After talking to the home owner and listening to all the problems they where having It had become perfectly clear ... the unit has never moved enough air.
Just not enough ducting
Unfortunately in this older farm house increasing the return duct work would prove to be impossible, and I am sure that is what the original installation company faced as well. Fortunately American Standard makes a variable speed air handler that can overcome duct issues such as these.
After replacing the indoor unit, outdoor unit and the line set we where ready to test our theory out .. and sure enough the new American Standard air handler performed perfectly.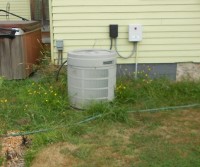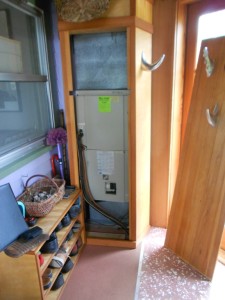 Conclusion
When you are faced with ducting issues in a situation where increasing the ducting is impossible but you need the air volume? Use a variable speed piece of equipment. Of course there are limits to what these variable speed units can do, BUT they will help dramatically in cases like these.
We've made a little video to give you an idea of who Alpine Heating and Cooling is and what we represent. We hope you enjoy it. Please let us know how we can serve your heating, ventilation, and air conditioning needs.
Call or email us to make an appointment.
Heating And Cooling Skagit County
Need a Heat Pump, Air Conditioner, Furnace, Boiler, Ductless, Mini-Split or Tankless Water Heater? We install them all over Skagit county including Mount Vernon WA, Burlington WA, Anacortes, Sedro Woolley, La Conner, Stanwood WA, and on Camano Is.
One of my customers has a 2nd home in upper Skagit county. This particular home I believe was someday going to be their retirement home. Unfortunately the house is very isolated in a rural area, making it very attractive for thieves and vandals. Sometime during the last few months someone broke in and stole a lot of copper from the house, some of which was the copper lines/coils used in the heat pump system.
Above you see the existing Coleman heat pump we installed years ago, what is missing is the refer line set that ran from the heat pump to the indoor coil.
As you can see the thieves didn't exactly use a tubing cutter to remove the copper lines. The service valves where compromised, actually twisted behind the access panel. The damage they caused far out ways the copper they recovered.
When the thieves tried do remove the indoor coil they realized it was bolted into the unit, so they then destroyed the indoor coil, leaving no room for reconnection.
As you can see above the difference between the old damaged coil and the new coil being installed.
The new coil had to come from the factory so it took a few weeks to get, but it slid right in and my technician brazed it right up. While brazing always run nitrogen through the lines to make a nice clean internal weld. Any internal scaling will cause damage down the road.
After the lines had been purged and welded we then tested with nitrogen. After we pass a nitrogen pressure test we pump down the lines with a vacuum pump. We use a micron gauge to monitor how well we are pumping the system down.
We really kept our fingers crossed because we did not know the extend of the internal damaged caused to the heat pump. In this cause the unit fired right up and ran like new.
Heating And Cooling Skagit County
Need a Heat Pump, Air Conditioner, Furnace, Boiler or Tankless Water Heater? We install them all over Skagit county including Mount Vernon WA, Burlington WA, Anacortes, Sedro Woolley, La Conner, Stanwood WA, and on Camano Is.