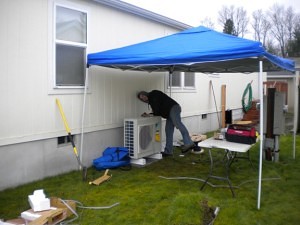 Today, more than ever before it is financially sensible to ensure that your HVAC system is free of problems and that it operates efficiently over the long-term. Having HVAC routine inspections performed along with scheduled maintenance is one of the best ways to ensure a long lifespan and excellent performance when it comes to HVAC equipment. In fact, a lack of routine regular inspections and maintenance will ultimately end up costing homeowners more money over the long term.
Service Life and Reliability
Here are some of the typical benefits associated with having routine inspections performed on HVAC equipment. For example, those who have their systems inspected routinely can expect a longer useful life for their HVAC equipment. Keep in mind that replacing a complete HVAC system can be an expensive proposition and that is why it is well worth maintaining existing equipment as long as it is in good operating order. Most experts agree that a lack of proper maintenance and routine inspections can greatly hinder service life and the reliability of a typical residential or commercial HVAC system.
Service Life and Efficiency
In fact, many estimates suggest that service life and efficiency can be reduced by as much is up to 50% when regular maintenance and inspections are not performed. Keeping detailed records of data and monitoring performance of an HVAC system provides a more complete picture of the overall condition of the equipment. This helps to quickly identify any potential problems or defects that could lead to more serious and more expensive issues. In addition, equipment that is properly maintained, inspected and cleaned will simply operate more efficiently. Keeping a system operating at the highest levels of efficiency equates to saving money in terms of energy usage.
Routine Inspections
Dirty equipment such as a dirty heat transfer surface or tubes that are clogged makes it more difficult for equipment to transfer heat efficiently. This results in equipment working harder to do the same job and ultimately using a greater amount of energy. Routine inspections not only check for good functionality but they also look for parts and components that are dirty and that may require cleaning. At the end of the day, routine inspections will improve efficiency and save money on energy.
Greater Levels of Efficiency
Finally, routine inspections of HVAC equipment mean that the homeowner is now proactive rather than reactive. Waiting for unexpected problems to arise in an HVAC system can be a very costly way to manage this important home appliance. That said being proactive and having preventative maintenance and routine inspections performed on HVAC equipment will ultimately be less expensive and less resource intensive than waiting for something to break or malfunction. Those wishing to extend the useful life of their HVAC equipment will enjoy greater levels of efficiency and save money by being proactive rather than reactive and simply need look no further than routine HVAC system inspections. Contact Alpine Heating and Cooling today for the best in Bellingham HVAC system maintenance and repair.
Today more than ever before consumers are turning to tankless water heaters as a way to lower energy consumption and decrease utility expenses in general. That said keep in mind that this type of water heater requires a special type of venting in order to blow hot exhaust gas outside of the home as a way to dissipate heat. Different from conventional water heaters, tankless hot water heaters require unique and creative venting options.
Direct Vent Pulls Air From the Outside
Keep in mind that in many cases the installation of this type of water heater results in a more attractive and less expensive finished product. Perhaps the most important aspect of a tankless water heater is that it will save considerable space. Tankless water heaters can be vented in one of two ways. They can either be vented via a power vent or direct venting. A direct vent pulls air from the outside of the home and will typically have two vent openings used for exhaust and intake.
Outside Tankless Water Heaters
This kind of configuration is unique in that it allows a tankless unit to fit in a much smaller spaces than would otherwise be the case. Conversely, power vent type units only require that there be adequate exhaust venting available. That said, a power vent unit usually requires a larger area so that adequate volumes of air are available and so that normal combustion is assured. There are other types of units that are known as outside tankless water heaters. These are good because they can free up a lot of indoor space. Best of all, an outside unit requires no additional venting.
High Efficiency Levels
When installing a unit that does require outside venting remember that venting can be through a sidewall or roof or any other number of other unique venting options. Finally, there are units that are known as condensing tankless water heaters. These are a good choice because they can lower energy costs thanks to very high efficiency levels. With the lower cost of installation associated with nonmetal parts being used, a condensing tankless water heater may be the perfect choice for today's modern homeowner. Contact Alpine Heating and Cooling today to learn more about Mount Vernon Washington HVAC systems and services with a proven record.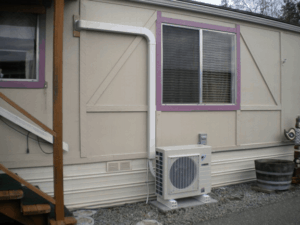 Modern innovations in HVAC systems have allowed more options for homeowners and businesses today than even just a few short years ago. A ductless mini split heat pump is a unique type of heating system that effectively eliminates energy inefficiencies that are often seen in ducted heating and cooling systems. In fact, a typical ductless mini split can reduce energy inefficiencies by up to 30% or more. These systems are typically easy to install, quiet and efficient and may even be eligible for a variety of energy rebates.
Type Of Installation
One of the best advantages of using this type of heat pump system is that they are ideal for the zone heating or cooling of specific areas of an interior space. In most cases, this type of system can be installed and be up and running within a matter of hours. A ductless mini split heat pump is easy to operate, easy to maintain and will typically last for many years once installed. It is important to note that not all homes are suited for this type of installation. For example, some homes would require too many separate many split systems to be considered cost-effective.
Mini Split System
While there are a variety situations where this kind of heating or cooling system would be ideal there are other cases where a more robust and comprehensive system would be more appropriate. That is why it is important to talk with your heating and cooling professional to find out which system will work best for your particular needs. Keep in mind that the portion of a mini split system that is installed indoors can at times be bulky and easily visible. Those who prefer a more hidden type of system may wish to consider other options.
Heating And Cooling
All said a ductless mini split is an excellent option when used in the right type of application. Having a professional assessment of your home or business is usually the perfect place to begin when determining whether or not this type of heating and cooling option is the most appropriate. Many factors are taken into account such as the size of the interior space and the area that requires heating and cooling. The electrical panel and the type of construction as well as the existing system in use are all taken into account when determining if a mini split system is best. Contact Alpine Heating & Cooling today for Mount Vernon HVAC system service and sales.
Natural ventilation plays an important role in helping to keep your home fresh, healthy and clean. Simply stated, natural ventilation is created when fresh outdoor air is allowed to enter living spaces and flow freely. Natural ventilation does not require an air-conditioning unit or fans. Sometimes referred to as passive cooling, this kind of ventilation is completely free and highly effective in keeping any home looking and smelling fresh. Here are a few easy ways to improve natural ventilation in your existing home or even if you plan on building a new home.
Improved Air Movement
For example, choosing furnishings that are made of breathable materials such as wicker or bamboo can help to encourage improved air movement throughout your home. The very nature of this type of furniture allows for good airflow thanks to minimal heat retention and an overall airy construction. While this kind of furniture is frequently used outdoors it can easily be used indoors to create a unique and inviting look while improving overall interior airflow.
Improve Indoors Air Quality
Equally important is to get into the habit of opening windows frequently especially when the weather is nice. Opening windows is a great way to save energy used by electric fans and other types of air conditioning or cooling systems in your home. Keep in mind the fresh airflow can actually substantially improve indoor air quality. Those building a new home will find that proper window orientation can easily improve cross ventilation. This can be as simple as placing windows on north or south facing sides of the home. Smart design when building a home can greatly increase good airflow in all interior spaces.
Design of the Structure
Another great way of improving airflow when considering the design of a new home is to include transitional spaces throughout the design of the structure. This can include adding atriums, courts, balconies, patios and other types of open outdoor spaces that will help to encourage outdoor living and better airflow. Keep in mind that the advantages of maximizing natural ventilation cannot be overstated. Improved indoor air quality, reduced energy usage and a better overall indoor living experience are just some of the benefits of getting it right when it comes to natural ventilation in your residential home. Contact Alpine Heating and Cooling today for the best in Burlington WA HVAC services that get results.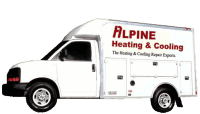 While nothing compares to having your HVAC system maintained by a professional HVAC technician, there are some things, you, the homeowner can do between check-ups to keep your system running at peak performance. Best of all, regular HVAC care and maintenance will improve efficiency and even lower energy costs. One example of a great way to keep your system running at its best is to change filters frequently. Remember that a dirty filter will restrict airflow causing a system to work harder.
Check Refrigerant Lines
A clogged filter will also have a direct impact on indoor air quality. Plan to change the filter on your HVAC system every 90 days to gain maximum benefit. At the very least it is a good idea to check filter condition on a monthly basis and change as necessary. Equally important is to check refrigerant lines that run into your home. Look for frost accumulation and any possible leaks. If a leak is detected it is important to call in a qualified Burlington WA HVAC technician as soon as possible.
Keep the Entire Interior of Your Home Clean
Cleaning a system often is also a great way to improve efficiency and to extend the life of that system. In fact, one of the best ways to keep a residential HVAC system in top condition is to simply keep the entire interior of your home clean. A clean home that is free of dust and dirt will result in a cleaner HVAC system. Clean floors and curtains often and especially vents and heat registers. The air handling unit and the outdoor compressor unit should also be the targets of regular and frequent cleaning.
Quick Fix When Dealing with Mold
Finally, mold is a serious issue and must be addressed as soon as discovered. Keep in mind that a mold problem that goes unmanaged can quickly become a major issue for homeowners. Mold spores can spread very quickly and can be transported via airflow through the HVAC system. If you suspect mold in your home have a professional diagnose the problem and take corrective action as soon as possible. A quick fix when dealing with mold is to use household bleach to stop growth until a professional is able to deal with the problem. Contact Alpine Heating & Cooling today for the best in Bellingham HVAC services.
Saving money is more important today than it has ever been in the past. This is especially true when it comes to improving the efficiency of an existing home heating or cooling system. First it is important to understand that most heating and cooling systems are not created the same. Different systems will produce different results and can have varying levels of efficiency. Simply stated, always make a smart decision when installing an HVAC system in your home as a way to keep utility bills as low as possible without sacrificing comfort.
Heating and Cooling Costs
It is important to note that in most typical residential homes, heating and cooling costs can account for almost half of a total monthly energy bill. Those with units that are older than 10 years old should consider replacing them with an Energy Star compliant system. This simple money saving strategy alone can save a homeowner upwards of 30% or more on annual heating and cooling costs. For the absolute best in seasonal energy efficiency, few other types of HVAC systems can compare ones that are fully Energy Star compliant.
Replacing Equipment
When it comes to replacing a central heating or cooling system here are a few other useful money saving tips worth considering. For example, anytime equipment requires frequent and costly repairs or energy bills are steadily on the rise it may be time to replace your existing system. In addition, when replacing equipment always select energy-efficient systems that meet smart energy saver standard programs or that offer rebate programs or other standard rebates. Many homeowners are surprised to find that this can help offset the cost of replacing an entire HVAC system. While high-efficiency systems can be more expensive initially, the cost will almost always be offset and paid back over time in the form of lower annual energy costs.
Annual Inspections
Finally, regular maintenance can be extremely helpful in preventing future heating and cooling system related problems. Work with an experienced and knowledgeable team of professional HVAC technicians to ensure that your system is properly maintained year-round. Having annual inspections of your system and occasional cleanings can ensure that it lasts longer and performs better. Springtime is the perfect time to check your heating system for possible failure. Contact Alpine Heating And Cooling today to learn more about Mount Vernon Washington heating and cooling services that get results.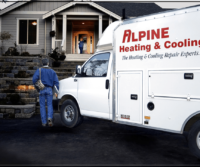 Even with the summer coming to a close in Skagit County, it is never too late to save money on energy through better HVAC operation. Here are a few simple yet important tips that will save you money on your utility bill without the need to sacrifice comfort. For example, one of the easiest ways to enjoy greater levels of efficiency with your HVAC system is to replace an old outdated air conditioning unit with a newer more efficient model.
Eventually Pay For Itself in Energy-Savings
This is especially true if an older unit has not been maintained in the right way. Consider investing in a new model that will greatly improve efficiency and lower energy bills each month. While initial replacement costs may deter your desire to upgrade to a newer system, in the long run the unit will eventually pay for itself through real energy-savings. When considering a new air conditioning unit only choose one that has the Energy Star label. An Energy Star HVAC unit consumes up to 50% less energy than a unit that is not Energy Star compliant.
Skagit County HVAC Services
Equally important is to change AC or furnace filters frequently. Getting into the habit of changing air filters on a monthly basis can ultimately result in more efficient operation and better system performance overall. Air filters that are dirty or clogged can result in a disruption of airflow and even lead to health related problems. Most importantly, dirty air filters force an HVAC system to work harder. This ultimately can result in a unit wearing out much sooner than would otherwise be the case. Another great way of saving energy is to invest in a programmable thermostat.
Today's Latest Digital Programmable Thermostats
A thermostat that is fully programmable allows you to more effectively control your HVAC system even when not at home. This type of thermostat can be programmed to fit your schedule and improves efficiency ultimately saving money on energy bills. Exact temperatures can be set while targeting specific rooms for temperature control is even possible when using today's latest digital programmable thermostats. Finally, have your unit inspected annually by a trained professional as a way to detect problems before they become more costly. Contact Alpine Heating and Cooling today to learn more about Burlington Washington HVAC system maintenance and system care services.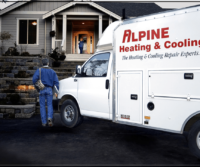 Allergens typically cause serious health problems for millions of people each year and frequently result in seasonal allergy conditions. For example, airborne particles such as dust mites and pet dander as well as mold and other particulates can make it difficult to breathe and may result in sneezing and coughing as well as a runny nose and red eyes. The good news is that there are ways to address the issue of allergens in a residential HVAC system.
Using The Right Type of HVAC System Filter
Here are a few ways to properly care for an HVAC system in order to remove allergens and keep air clean and healthy. For example, using the right type of HVAC system filter can make a big difference. In fact, the right type of furnace or AC filter is one of the first lines of defense against poor air quality in most residential homes. When selecting a filter choose one that has at least a MERV 8 rating. This type of filter will in essence be more effective at trapping microscopic particles.
Mt. Vernon Washington HVAC Services
When choosing the right type of filter is combined with the frequent replacement of filters, the end result is cleaner air and better health. Equally important is to remove any debris near the outdoor portion of your HVAC unit. A typical AC system draws air from the outside the home. This air is eventually circulated throughout the home's interior. As such it is important to keep this area outside clean and free of debris. Regularly inspecting an outdoor unit for surrounding debris can greatly improve efficiency and even lower energy costs. Finally, keeping air-conditioning registers clean is another great way to reduce allergens in your home.
Particulates That Circulate Throughout Your Living Environment
When dusting your home it is important to consider first dusting the returns and registers of your HVAC system. Follow this by dusting the rest of the home as a way to reduce the amount of airborne particulates that circulate throughout the living environment. One of the best ways to dust a home is to make use of the damp rag. This helps to reduce the amount of dust and even dust mites that could be sent airborne by using a dry dust cloth. Contact Alpine Heating and Cooling today for the best in Mount Vernon Washington HVAC system services and care.