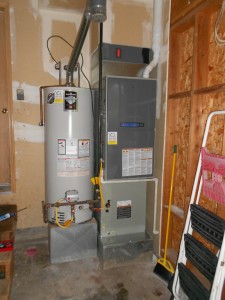 Extending the life of a residential hot water heater can save money and prevent potential water damage as well as other related costly repair problems. Here are a few useful tips for homeowners wishing to maintain a residential water heater in top condition year-round. One example is to simply know where the water heater is located within your home. Be sure that there is clear access to this important home appliance and that the plumbing is easily accessible in the event that repairs or immediate action is required.
Powered by Propane
In addition it is recommended by most professionals that you know what type of water heater you have installed. For example, is the water heater powered by propane, electric or natural gas. Perhaps you have a tankless type water heater. Whatever the case may be, knowing well in advance what kind of device is installed in your home can ultimately save a lot of time, trouble and money. Experts in the industry recommend that homeowners write down in a safe place the serial number and model number of the unit that is installed in their home.
Model Number
This information is vital and important especially for a professional plumber who may end up working on the unit at some point. Keep in mind that embedded within the serial number and model number is information on gallon capacity as well as the age of the appliance. Equally important is to know where and how to turn off the flow of water to a water heater. Knowing how to shut the water off quickly in addition to the power or fuel supply for the unit can prevent water damage and other situations that could result in expensive repairs.
Adequate Airflow
Finally, keep the area around any water heater clear and free of debris at all times. This ensures that if a leak develops that you will notice it quickly. If the area surrounding the heater is cluttered it may not be as easy to identify developing leaks. Also ensure that there is adequate airflow around the unit. This is especially true of water heaters that use gas as a fuel. A lack of adequate airflow can result in reduced efficiency and even result in damage to the burner chamber or other parts and components within the unit. Contact Alpine Heating & Cooling today for Burlington WA HVAC services that always get results.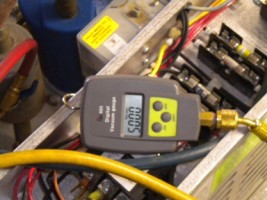 Compressor Replacement For A Grow Room
I know what your thinking, I would think the same. But NO not a marijuana grow room (even though we do work on them), this customer specializes in breeding and producing vegetable and ornamental seed and vegetative cuttings around the world. They are one of Alpines long term commercial customers. Unfortunately for them we found one of their walk in coolers hot and the compressor Dead On Arrival. Time for a Compressor Replacement.

Refrigeration is Serious Business
When it comes to commercial refrigeration, especially with this account, we need to act fast. The product in the grow room/cooler could be worth 10s of thousand of dollars, if not more. Fortunately one of our vendors had a replacement compressor in stock.
Pumping It Down
The key to successful a Compressor Replacement like this one is cleanliness, I don't mean clean hands either. I mean inside the system, we want a very clean and sealed system. After installing the compressor, replacing the filters we pressure tested the system with nitrogen and then pumped down the system below 500 microns. Once the system has been pumped down and we are sure there is no leaks, we can then charge the system with refrigerant.
Keeping It Cool
We had our customer up and running in a very short period of time. Notice the louver behind the condenser? This louver was added not that long ago because of high heat conditions causing excessive wear and tear on the equipment, I have a feeling it was added a little to late. The draw back to adding this louver, especially out on in the country, is the amount of dirt that gets dragged in, maintenance is a must and the coil has to be constantly cleaned.
Conclusion
We have saved our customers product, equipment is running correctly and they are happy.