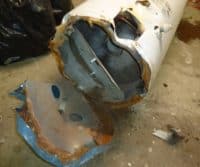 It's Never a Good Time for Water Heater Replacement
Nobody wants their water heater to fail, but every one will fail unless replaced first. Most people are taken by surprise when they need water heater replacement, but it doesn't have to be that way. By paying attention to the right details, you can avoid the unpleasantness of being without hot water longer than necessary, having an unexpected expense, and possibly avoid significant flood damage to your home. What are the signs of a failing water heater, and when should you look for them?
Is Your Water Heater Past its Prime?
Because water heaters are designed to have a limited useful lifespan, it is important to know when your unit was installed. You can often find the manufacture date on the rating label (or, on older models, decoding the serial number may tell you the manufacture date), but that may not be an accurate representation of how long the unit has been in service.
If you had the water heater put in, you might still have the receipt for the work that was done. Many companies will also put a sticker on the unit when they install it that may includes the installation date. Or, you might be able to give them a call and find out when they installed the water heater.
Once you know how long the water heater has been in service, you can take the appropriate steps to evaluate it. The average lifespan of a water heater is a subject of great debate, but if the unit has been in service at least six years, you should at least inspect it yourself, and may want to have it professionally inspected. If it has been in service more than ten years, look extra carefully for signs of trouble.
What Problems Should I Look For?
Noticeably less available hot water or longer recovery time. If you can remember when it was no problem for everyone in the family to take showers one after the other, but now you're all fighting to take the first shower, you might have an issue with a heater element, dip tube, thermostat, or excessive sediment buildup.
Visible rust on and/or moisture on or around your water heater. If you see rust and water on the outside or surrounding your unit, it could be nothing, but that isn't likely. The exterior of your water heater should be clean and dry. If the tank is rusting and water has begun seeping out, a full-blown failure that could include flood damage is impending.
More than one service call on the unit. Repeated stop-gap measures are often a sign that a water heater is nearing the end of its life. Like an old car, the cost of repeated repairs can often exceed replacement cost while never really solving the problem.
Metallic smell or taste to your hot water. This could be a sign that the water tank itself is breaking down and will soon fail. Best to have a professional check it out more closely in this case.
Rumbling and other noise coming from the unit. Water heaters should be nearly silent. You might hear the sound of water simmering or the gas flame burning, but rumbling, banging, or cracking sounds are not good. If you notice any of these when your water heater is in operation, call a professional.
Is There any way to Avoid Failure?
While nothing mechanical lasts forever, there are a few actions you can take to ward off premature failure. Modern water heaters are designed to require little or no maintenance, but the following will make sure you are familiar with the condition of your water heater and give it every advantage.
Drain the water heater every six months to remove sediment. This will also increase efficiency.
Test the pressure relief (T&P) valve by lifting the valve's handle and letting it snap back. This should release a burst of water into the overflow drainpipe, then the flow should stop completely. If it doesn't, install a new valve.
Lower the temperature setting on the thermostat(s) to 120 degrees Fahrenheit. This minimizes damage to the tank caused by overheating and protects your home's occupants from scalding.
Use caution when working with electricity, gas, and hot water. If you are unsure of how to safely do any of the above steps, call a professional for help. Alpine Heating and Cooling replaces and installs tank-type and tankless water heaters, performs maintenance on all brands, and carries out warranty repairs on many popular brands. If you think you might want to replace your tank-type water heater with a new, more efficient tankless water heater, check out our guide to choosing between tank-type and tankless.
Water heater replacement is nobody's idea of fun, but we do love our work! If you have any questions about your water heater, give us a call. We can come out and give you a free estimate for any needed work. You can reach us at 360-755-5146 or 360-293-6210. We look forward to helping you!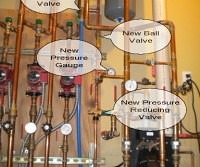 Bradford White combi-core
Bradford White combi-core not heating
Every once in awhile you come across a good install, but poor design. Here we have a Bradford White combi-core (Boiler) hwt. These tanks heat both the domestic and hydronic water without mixing the two. The first thing I look for when I'm called out on a no heat boiler call is water pressure, and in this case there was no gauge. Not only was there no gauge...there was no pressure relieve valve. I determined there was massive amounts of air in the system, the pressure regulating valve was shot (no water coming in), and their expansion tank was faulty.
What we replaced and added
I replaced the expansion tank, replaced the cheap pressure regulator valve, added a pressure relieve valve and pressure gauge. Now if they ever have issues again with their Bradford White combi-core at least the tech can see if there is pressure in the system ... and if the pressure gets to high it has a place to go. I also found a faulty Wirsbo zone valve, and of course replaced it as well.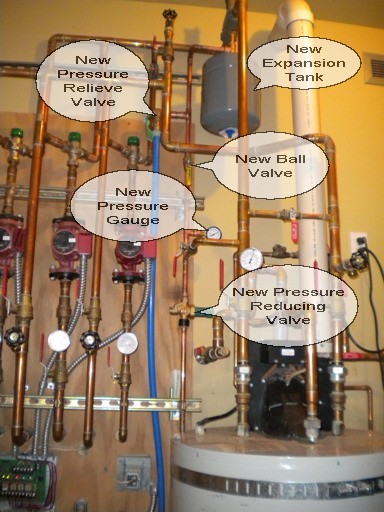 Navien Combi Boiler Weekend Home
Navien Combi Water Heater
At first glance I was taken back a little by the material being used in this water heater system. I have never seen black rubber hose being used in a in-floor application. It was not only the rubber hose being used but the size of the hose, 1/4" Id just does not seem like a lot of surface area to me for in-floor.
The black hose simply pushed into the copper pipe to make a manifold, the pressure of the system keeps its sealed. My research concludes that 45psi is the max these connections could hold back. We are running 12 to 20 psi.
  Here you can see the older Combi-Core water tank that was used to heat both their domestic as well as there hydronic heat. The mixing valves being used appeared faulty and both expansion tanks where bad.
Navien

Combi Water Heater ... cont.

Navien has really out done themselves in my book with the Navien Combi Water Heater. This unit not only heats your domestic water, but also heats your home ... all in the same box.

 The Navien CH-240 tankless bolted right up on the exterior wall and really was plug and play, well of course we had to build a primary manifold and modify the existing loop to be a secondary loop ... but not to complicated.

 We controlled the Navien Combi Water Heater boiler system with the new ecobee Wifi thermostat, this way my customer can change thermostat settings from a remote location. And this being a weekend home it will work out great.

 
American Standard Furnace 80%
Like for like 80%
Here we have an American Standard Furnace 80% that was replaced with a new American Standard Furnace 80%. What we call "like for like". It is by far one of the easiest types of replacements, especially if its located in the garage.
Now in my opinion this furnace should have lasted a lot longer. One issue that caused a short life was a poorly sized filter system, a small filter gets clogged way to fast making it difficult for the owner to keep up with and then eventually causing high limit failures(over heating). Also if the furnace had been vented with double wall pipe instead of galvanized single wall pipe, there would have been less internally corrosion (white dust) that clogs up pressure ports and causes excessive wear on the inducer. We find this a lot in very cold garages.
Like for like 80% cont.
Here you see the new American Standard furnace and a Bradford White hot water tank installed. The new equipment is vented with type B double wall venting that will eliminate internal corrosion. We also added a Honeywell filter system.
And as you can see the Honeywell F100 4" fits perfectly on top and usually provides annual protection but I do recommend checking every 6 months.
Need a Heat Pump, Air Conditioner, Furnace, Boiler or Tankless Water Heater? We install them all over Skagit county including Mount Vernon WA, Burlington WA, Anacortes, Sedro Woolley, La Conner, Stanwood WA, and on Camano Is.