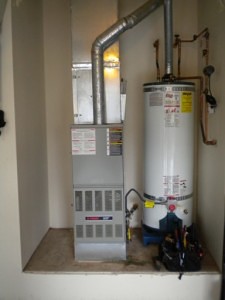 Water heaters are very dependable today, however even the best-built water heater will eventually fail at some point in time. Few people realize how much they count on a water-heating unit until the day that it actually stops working. Here are a few smart tips on how to handle the failure of a water heater in your home. Perhaps the most essential thing to remember is that when one does indeed fail it is important to get it fixed as quickly as possible. Whether you have an electric or gas unit, time is of the essence so plan on getting it fixed as soon as you can.
The Tankless Variety
Keep in mind that those with a storage tank style water heater that has failed may have the perfect opportunity to switch to a more efficient and more reliable system known as a tankless water heater. It is also worth noting that gas water heaters of the tankless variety are considered to be one of the most efficient types of water heating units available today. While it is true that tankless models tend to be pricier than conventional storage tank type water heaters, they will pay for themselves over the long term when it comes to energy savings and long-term reliability.
Mount Vernon Washington Water Heater Repair
When the day finally does arrive where a water heater does actually fail, remember that calling, as soonest possible, for help from a professional in the field will reduce the inconveniences that you may experience. In most instances once you have a professional in your home working on the problem it can be repaired in the same day having your home back to normal quickly. Whether a water heater fails completely or simply has a troublesome leak, calling in a professional is the best way to resolve the problem. Keep in mind that more serious cases where there is a sub floor that has rotted through or severe water damage has occurred may require additional time to resolve the situation, as would be expected.
Difficult To Access
Finally, one big concern that people have when a water heater unit does fail is that of cost. Remember that repair costs will depend primarily on the type of gas or electric water heater that you decide to replace the failed unit with and how easy it is to install. One example is when a water heater is hidden in an area of the home that is difficult to access. When this is the case, installation and repair costs can be considerably more than if a water heater is conveniently located out in the open in a garage, for example. Contact Alpine Heating & Cooling today to learn more about water heater repair in Mount Vernon Washington. Help is just a call away!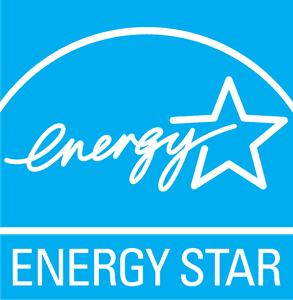 Today more than ever before it is important to consider all options when it comes to saving energy and saving money. The term Energy Star is an important aspect of selecting the right type of appliances for your home or business. When you purchase appliances or equipment that boast the Energy Star label or logo, you can be sure that you are buying an energy efficient product that will ultimately save you money and also help to save the planet. As an added bonus, with Energy Star appliances, anytime there is an increase in the cost of energy, the value of your appliances automatically increases in terms of the ability to save you money.
Replacement Will Be Less Frequent
Energy Star approved appliances are considered to be higher quality in terms of how they are designed, manufactured and built. In other words, this type of appliance will provide years of trouble-free service while operating in a quieter and more efficient way. They can be expected to last longer meaning that replacement will be less frequent. Everything else aside, saving money each and every month on energy bills is perhaps one of the most enticing reasons to choose this type of appliance. In addition, the idea of incentives and rebates is hard to resist.
High-Efficiency
For example, the incentives and rebates offered by Cascade Natural Gas right here in Washington State have real value in terms of saving consumers money. Typical incentives include hundreds of dollars offered to those who choose to install high-efficiency natural gas furnaces or high-efficiency tankless water heaters. In some cases, these incentives can be over $800 or more. Even increasing attic insulation can make one eligible for incentives and rebates. Energy Star appliances are a big hit because of their amazingly high rates of efficiency meaning that they will almost always entitle a homeowner to some type of incentive or rebate.
The Next Time You Are In The Market For A New Appliance
In addition to installing Energy Star appliances there are many other ways that homeowners can save money around the home. This can include everything from simply installing faucet aerators and showerheads that are specifically designed to save water. This not only lowers water usage but it also reduces costs associated with heating water. Keep these simple ideas in mind the next time you are in the market for a new appliance. From boilers to fireplaces and geothermal heat pumps as well as ductless heat pumps and many other types of common household appliances, qualifying for Energy Star incentives and rebates is easy. Contact Alpine Heating & Cooling today to learn more about Energy Star incentives and rebates in Mount Vernon Washington and the surrounding communities.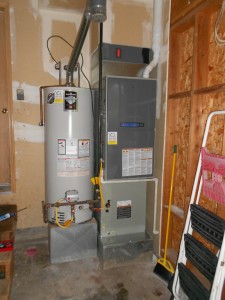 Extending the life of a residential hot water heater can save money and prevent potential water damage as well as other related costly repair problems. Here are a few useful tips for homeowners wishing to maintain a residential water heater in top condition year-round. One example is to simply know where the water heater is located within your home. Be sure that there is clear access to this important home appliance and that the plumbing is easily accessible in the event that repairs or immediate action is required.
Powered by Propane
In addition it is recommended by most professionals that you know what type of water heater you have installed. For example, is the water heater powered by propane, electric or natural gas. Perhaps you have a tankless type water heater. Whatever the case may be, knowing well in advance what kind of device is installed in your home can ultimately save a lot of time, trouble and money. Experts in the industry recommend that homeowners write down in a safe place the serial number and model number of the unit that is installed in their home.
Model Number
This information is vital and important especially for a professional plumber who may end up working on the unit at some point. Keep in mind that embedded within the serial number and model number is information on gallon capacity as well as the age of the appliance. Equally important is to know where and how to turn off the flow of water to a water heater. Knowing how to shut the water off quickly in addition to the power or fuel supply for the unit can prevent water damage and other situations that could result in expensive repairs.
Adequate Airflow
Finally, keep the area around any water heater clear and free of debris at all times. This ensures that if a leak develops that you will notice it quickly. If the area surrounding the heater is cluttered it may not be as easy to identify developing leaks. Also ensure that there is adequate airflow around the unit. This is especially true of water heaters that use gas as a fuel. A lack of adequate airflow can result in reduced efficiency and even result in damage to the burner chamber or other parts and components within the unit. Contact Alpine Heating & Cooling today for Burlington WA HVAC services that always get results.
Today more than ever before consumers are turning to tankless water heaters as a way to lower energy consumption and decrease utility expenses in general. That said keep in mind that this type of water heater requires a special type of venting in order to blow hot exhaust gas outside of the home as a way to dissipate heat. Different from conventional water heaters, tankless hot water heaters require unique and creative venting options.
Direct Vent Pulls Air From the Outside
Keep in mind that in many cases the installation of this type of water heater results in a more attractive and less expensive finished product. Perhaps the most important aspect of a tankless water heater is that it will save considerable space. Tankless water heaters can be vented in one of two ways. They can either be vented via a power vent or direct venting. A direct vent pulls air from the outside of the home and will typically have two vent openings used for exhaust and intake.
Outside Tankless Water Heaters
This kind of configuration is unique in that it allows a tankless unit to fit in a much smaller spaces than would otherwise be the case. Conversely, power vent type units only require that there be adequate exhaust venting available. That said, a power vent unit usually requires a larger area so that adequate volumes of air are available and so that normal combustion is assured. There are other types of units that are known as outside tankless water heaters. These are good because they can free up a lot of indoor space. Best of all, an outside unit requires no additional venting.
High Efficiency Levels
When installing a unit that does require outside venting remember that venting can be through a sidewall or roof or any other number of other unique venting options. Finally, there are units that are known as condensing tankless water heaters. These are a good choice because they can lower energy costs thanks to very high efficiency levels. With the lower cost of installation associated with nonmetal parts being used, a condensing tankless water heater may be the perfect choice for today's modern homeowner. Contact Alpine Heating and Cooling today to learn more about Mount Vernon Washington HVAC systems and services with a proven record.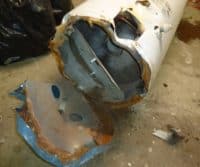 It's Never a Good Time for Water Heater Replacement
Nobody wants their water heater to fail, but every one will fail unless replaced first. Most people are taken by surprise when they need water heater replacement, but it doesn't have to be that way. By paying attention to the right details, you can avoid the unpleasantness of being without hot water longer than necessary, having an unexpected expense, and possibly avoid significant flood damage to your home. What are the signs of a failing water heater, and when should you look for them?
Is Your Water Heater Past its Prime?
Because water heaters are designed to have a limited useful lifespan, it is important to know when your unit was installed. You can often find the manufacture date on the rating label (or, on older models, decoding the serial number may tell you the manufacture date), but that may not be an accurate representation of how long the unit has been in service.
If you had the water heater put in, you might still have the receipt for the work that was done. Many companies will also put a sticker on the unit when they install it that may includes the installation date. Or, you might be able to give them a call and find out when they installed the water heater.
Once you know how long the water heater has been in service, you can take the appropriate steps to evaluate it. The average lifespan of a water heater is a subject of great debate, but if the unit has been in service at least six years, you should at least inspect it yourself, and may want to have it professionally inspected. If it has been in service more than ten years, look extra carefully for signs of trouble.
What Problems Should I Look For?
Noticeably less available hot water or longer recovery time. If you can remember when it was no problem for everyone in the family to take showers one after the other, but now you're all fighting to take the first shower, you might have an issue with a heater element, dip tube, thermostat, or excessive sediment buildup.
Visible rust on and/or moisture on or around your water heater. If you see rust and water on the outside or surrounding your unit, it could be nothing, but that isn't likely. The exterior of your water heater should be clean and dry. If the tank is rusting and water has begun seeping out, a full-blown failure that could include flood damage is impending.
More than one service call on the unit. Repeated stop-gap measures are often a sign that a water heater is nearing the end of its life. Like an old car, the cost of repeated repairs can often exceed replacement cost while never really solving the problem.
Metallic smell or taste to your hot water. This could be a sign that the water tank itself is breaking down and will soon fail. Best to have a professional check it out more closely in this case.
Rumbling and other noise coming from the unit. Water heaters should be nearly silent. You might hear the sound of water simmering or the gas flame burning, but rumbling, banging, or cracking sounds are not good. If you notice any of these when your water heater is in operation, call a professional.
Is There any way to Avoid Failure?
While nothing mechanical lasts forever, there are a few actions you can take to ward off premature failure. Modern water heaters are designed to require little or no maintenance, but the following will make sure you are familiar with the condition of your water heater and give it every advantage.
Drain the water heater every six months to remove sediment. This will also increase efficiency.
Test the pressure relief (T&P) valve by lifting the valve's handle and letting it snap back. This should release a burst of water into the overflow drainpipe, then the flow should stop completely. If it doesn't, install a new valve.
Lower the temperature setting on the thermostat(s) to 120 degrees Fahrenheit. This minimizes damage to the tank caused by overheating and protects your home's occupants from scalding.
Use caution when working with electricity, gas, and hot water. If you are unsure of how to safely do any of the above steps, call a professional for help. Alpine Heating and Cooling replaces and installs tank-type and tankless water heaters, performs maintenance on all brands, and carries out warranty repairs on many popular brands. If you think you might want to replace your tank-type water heater with a new, more efficient tankless water heater, check out our guide to choosing between tank-type and tankless.
Water heater replacement is nobody's idea of fun, but we do love our work! If you have any questions about your water heater, give us a call. We can come out and give you a free estimate for any needed work. You can reach us at 360-755-5146 or 360-293-6210. We look forward to helping you!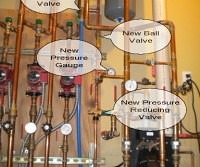 Bradford White combi-core
Bradford White combi-core not heating
Every once in awhile you come across a good install, but poor design. Here we have a Bradford White combi-core (Boiler) hwt. These tanks heat both the domestic and hydronic water without mixing the two. The first thing I look for when I'm called out on a no heat boiler call is water pressure, and in this case there was no gauge. Not only was there no gauge...there was no pressure relieve valve. I determined there was massive amounts of air in the system, the pressure regulating valve was shot (no water coming in), and their expansion tank was faulty.
What we replaced and added
I replaced the expansion tank, replaced the cheap pressure regulator valve, added a pressure relieve valve and pressure gauge. Now if they ever have issues again with their Bradford White combi-core at least the tech can see if there is pressure in the system ... and if the pressure gets to high it has a place to go. I also found a faulty Wirsbo zone valve, and of course replaced it as well.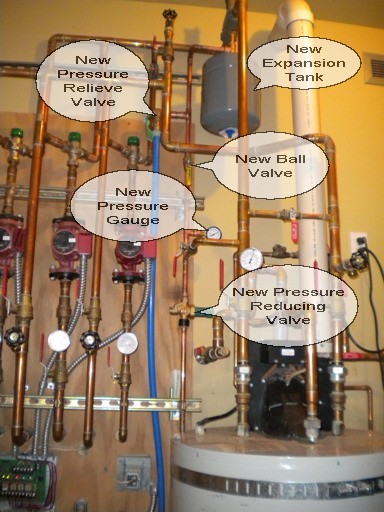 Navien Combi Boiler Weekend Home
Navien Combi Water Heater
At first glance I was taken back a little by the material being used in this water heater system. I have never seen black rubber hose being used in a in-floor application. It was not only the rubber hose being used but the size of the hose, 1/4" Id just does not seem like a lot of surface area to me for in-floor.
The black hose simply pushed into the copper pipe to make a manifold, the pressure of the system keeps its sealed. My research concludes that 45psi is the max these connections could hold back. We are running 12 to 20 psi.
  Here you can see the older Combi-Core water tank that was used to heat both their domestic as well as there hydronic heat. The mixing valves being used appeared faulty and both expansion tanks where bad.
Navien

Combi Water Heater ... cont.

Navien has really out done themselves in my book with the Navien Combi Water Heater. This unit not only heats your domestic water, but also heats your home ... all in the same box.

 The Navien CH-240 tankless bolted right up on the exterior wall and really was plug and play, well of course we had to build a primary manifold and modify the existing loop to be a secondary loop ... but not to complicated.

 We controlled the Navien Combi Water Heater boiler system with the new ecobee Wifi thermostat, this way my customer can change thermostat settings from a remote location. And this being a weekend home it will work out great.

 
American Standard Furnace 80%
Like for like 80%
Here we have an American Standard Furnace 80% that was replaced with a new American Standard Furnace 80%. What we call "like for like". It is by far one of the easiest types of replacements, especially if its located in the garage.
Now in my opinion this furnace should have lasted a lot longer. One issue that caused a short life was a poorly sized filter system, a small filter gets clogged way to fast making it difficult for the owner to keep up with and then eventually causing high limit failures(over heating). Also if the furnace had been vented with double wall pipe instead of galvanized single wall pipe, there would have been less internally corrosion (white dust) that clogs up pressure ports and causes excessive wear on the inducer. We find this a lot in very cold garages.
Like for like 80% cont.
Here you see the new American Standard furnace and a Bradford White hot water tank installed. The new equipment is vented with type B double wall venting that will eliminate internal corrosion. We also added a Honeywell filter system.
And as you can see the Honeywell F100 4" fits perfectly on top and usually provides annual protection but I do recommend checking every 6 months.
Need a Heat Pump, Air Conditioner, Furnace, Boiler or Tankless Water Heater? We install them all over Skagit county including Mount Vernon WA, Burlington WA, Anacortes, Sedro Woolley, La Conner, Stanwood WA, and on Camano Is.