Commercial

Daikin Ductless
New Commercial Daikin Ductless.

Daikin in my opinion makes the best ductless mini split system that's currently on the market today. That being said because of my customers unique lab environment and the massive heat gains that are produced they are in need of some serious air conditioning. With so many heat gain variables within the space we elected to add a Commercial Daikin Ductless system in stages.
Adding Stages As Needed

The concrete pad was poured large enough to accommodate more identical Daikin units. Therefore they could easily add more units next to this one as their facility grows.
For the indoor unit we have chosen the Daikin matching cassette unit. The indoor unit delivers the air conditioning exactly where we want it, it is practically flush with the ceiling and its super quiet. I find that it is a little harder to install than a typical mini split wall head ... but in this case its perfect for our customer.
Conclusion
This New Commercial Daikin Ductless system is going to work out perfect for our customer, and as they grow they will be able to add even more units/stages.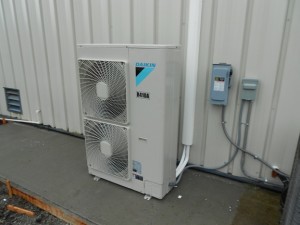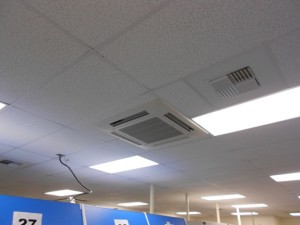 Write

a Comment
Fields with * are required