Energy

Star Rebates and Incentives
Rebates and Incentives for Cascade Natural Gas and Puget Sound Energy Customers
Energy Star – Not Just for Greenies
Most people have heard of the term "Energy Star," but do they know what it means for the end user? In the United States, we enjoy some of the lowest energy costs in the world. We pay less per unit than most of the world does for electricity, gasoline, and especially natural gas. So why should we bother paying extra for appliances that use less energy?
For one thing, an efficient appliance is a hedge against price increases. Every time the price of energy rises (which it inevitably will), the value of the appliance is enhanced.
Secondly, Energy Star approved appliances gain much of their efficiency from simply being built better. A higher quality, more efficient appliance will serve you longer, with less trouble, and be quieter in operation. Simple as that.
And, while our per-unit energy costs are relatively low here in the United States, who doesn't want to spend less on the basics every month? Speaking of spending less…
Free Money for the Asking
You are probably reading this because you are considering replacing your furnace, boiler, or water heater. Good news for you – both Cascade Natural Gas and Puget Sound Energy offer significant rebates and incentives to help you buy and install the best equipment available, often for less than the price of the cheap stuff. Many of these incentives require using Energy Star rated equipment. Knowledge is power, so here's the low-down on what's available to PSE and CNG customers as of December 2016.
Cascade Natural Gas Incentives and Rebates
Here are some examples of incentives available to cascade Natural Gas customers. Installation can be performed by a CNG trade ally:
High-efficiency Natural Gas Furnace – $250
High-efficiency Tankless Water Heater for Heat and Domestic Hot Water – $825
Increase Attic Insulation to at least R-38 – $0.30/square foot
Built Green Certified Home (new homes only) – $600
Many of the high-efficiency requirements are easily met with Energy Star rated appliances. For the complete list as a PDF, click here. You might also want to click through to see how to request your FREE home energy saver kit which includes faucet aerators and a shower head designed to help cut your water usage and hot water cost.
What Is a CNG Trade Ally?
According to the Cascade Natural Gas website, their Trade Ally program means:
Cascade Natural Gas works with our local contractors to help steer you through the application process for natural gas upgrades and weatherization services.  The following companies have enrolled in our Trade Ally Network and are familiar with the requirements of the Cascade Natural Gas Conservation Incentive Program.  They meet the program criteria necessary to retain their status including passing quality control inspections, providing required levels of insurance coverage, and maintaining licensing requirements for work in the State of Washington.
Alpine Heating and Cooling is a Cascade Natural Gas Trade Ally serving Skagit County, WA. If you are elsewhere in Washington, you can use this interactive map to locate CNG Trade Allies in your area.
Puget Sound Energy Incentives and Rebates
PSE offers rebates and incentives of up to $3550 on the following:
Ductless heat pump
Geothermal heat pump
Forced-air furnace to air-source heat pump conversion
Air-source heat pump
Heat pump sizing and lock-out control
Boiler
Forced-air furnace
Fireplace
Integrated space and water heat system
Natural Gas Fuel Conversion Rebate
You can get the details on their Heating Rebates and Offers page. The link for the fuel conversion rebate is at the bottom of that page.
Alpine Heating and Cooling Is Your Advocate
Alpine Heating is more than just a heating and cooling business, we're part of the Skagit County community. Whether you live in Burlington, Sedro-Woolley, Anacortes, or anywhere in between, we are here to serve your heating and cooling needs.
It's good business to help you get the most for your heating and cooling dollar today, but long-term relationships are what makes a business great. We have the experience, knowledge, and desire to help you navigate the choices and opportunities when it comes to heating and cooling your home safely, affordably, and efficiently.
Give us a call. We'll come out and discuss your situation with you. We are open from 8:00am until 4:30pm Monday through Friday and offer 24-hour emergency service, too. You can reach us any time at 360-755-5146 or 360-293-6210.
Whether you simply have a question about your current equipment or need an entire new system installed, you'll get the same professional, courteous service.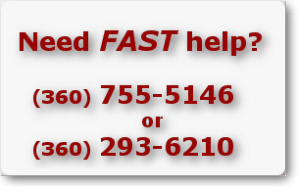 More Rebate and Incentive Information: