Coleman Mobile Home Heat pump.

Until you actually live in a mobile home you don't realize some of the issues that arise. One such issue is that when installing a fixed appliance it has to be mobile home approved. So when installing a heat pump it has to be mobile home approved, most manufactures do not have mobile home approved equipment. Coleman on the other hand is mobile home approved and offer many models to choose from, including a Mobile Home Heat Pump.
Mobile Home Furnace Coils

In many cases in a mobile home the gas furnace or electric air handler (furnace) is designed to have a heat pump or air conditioner coil added into or onto the cabinet. A lot of the times the furnace will actually have a sticker indicating that a coil can be added and give you choices on sizes. This Coleman furnace had all the information on the blower housing.
Mobile Home Heat Pump kits

Most manufactures actually make kits that are prepackaged for most of the models of furnaces in mobile homes. These kits can include a shelf, some insulation for the cabinet, a control package and filter rack. Now if you get a kit that actually works perfectly, that's a different story.
Heat Pump Location.

Its really not that hard to figure out where to place the Mobile Home Heat Pump, I try to avoid putting the heat pump near a master bedroom and or the neighbors master bedroom, I try to avoid water spigots, clothe drier outlets and or walk ways. I also try to keep as close as I can to the electrical panel.
Conclusion
In this Coleman Mobile Home Heat Pump installation we where able to install a MH kit onto the existing air handler, run about 40' of refer line set and install a 14 seer Coleman heat pump on a preformed pad. My customer is going to be very cool this summer and enjoy low heating bills this winter.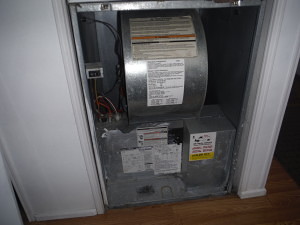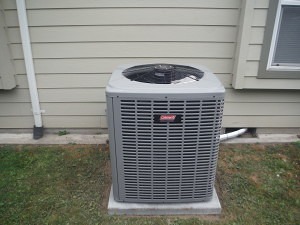 Write

a Comment
Fields with * are required