Mount

Vernon WA Church Furnace
Mount Vernon WA Church Furnace
There are certain types of heating and cooling projects that really appeal to me, these projects generally have the biggest impact or affect for the customer and are usually the most challenging. This Mount Vernon WA Church Furnace project was for the Church Of Christ in Mount Vernon, their oil furnace was from 1951 and it was a monster. Time for a upgrade!
The Monster In The Room

The furnace was located in the church basement in a room about 9′ by 9′ and it consumed most of that room. I had to stand back out of the room just to take a good picture. One of the biggest challenges with small community Church's is the furnace sizing. A lot of small Church's only get occupied say 1 to 2 times per week and the rest of the time the furnace generally stays off. So you have to consider raising the temperature say from 50 degrees to 70 degrees just for a few hours, and within a short period of time. And of coarse keeping the noise level down. Perfect for the American Standard 95% 2 Stage Variable.
American Standard, To The Rescue.

One of the complaints from the church was the down stairs always seemed cold, and even though they had damper controls to help with this issue it never seemed to work correctly, therefore they abandoned that part of the system and went to space heaters. The American Standard 95% Variable 2 Stage furnace with a Honeywell 4″ pleated filter system (above) was installed to deal with just the down stairs, fortunately the existing duct work was zoned to do just that. As you can see the foot print is much smaller than the oil furnace.
Conclusion
Churches have a very unique situation when it comes to heating and cooling demands. In this Mount Vernon WA Church Furnace project an American Standard 95% gas furnace worked out perfectly.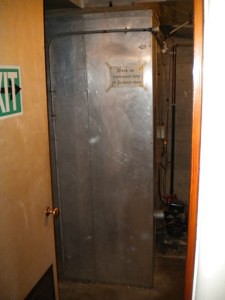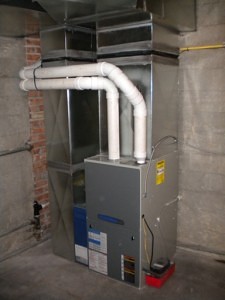 Write

a Comment
Fields with * are required