Payne

Furnace Replacement
Payne Furnace Replacement To American Standard
Why Alpine Heating
I would say about 80% of my customers that do furnace replacements choose Alpine Heating And Cooling because they have been our customer for years and trust us, the other 20% do their due diligence on equipment before selecting us. Its always a nice feeling when a customer comes back because we carry American Standard and they want a quality piece of equipment.
Now you obviously can not tell just from the photo, but this furnace was just a little undersized for the home, fortunately the base can and the rest of the ducting was sized for the home. This made it fairly simple to do the replacement. It is not uncommon for heating companies to use the same base can for every application, this makes it easier for the fab shop and the crew setting the base can.
The new American Standard 95% Variable 2 Stage fit right on the older base can, I simply had to make a offsetting transition and reconnect. The venting had to be rerouted to the other side of the garage and a condensate line added, but other than that this was a fairly simple replacement.
Now in this case and well as many others We offered a discount to replace their hot water tank at the same time as I replace the furnace. In this case I replaced the older hot water tank with a new 50 gallon Bradford White Tank.
Need a Heat Pump, Air Conditioner, Furnace, Boiler or Tankless Water Heater? We install them all over Skagit county including Mount Vernon WA, Burlington WA, Anacortes, Sedro Woolley, La Conner, Stanwood WA, and on Camano Is.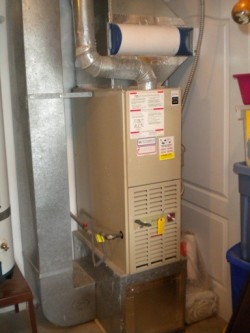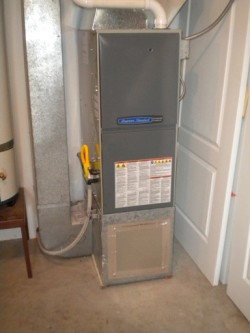 Write

a Comment
Fields with * are required