Furnace Maintenance, Is it Time?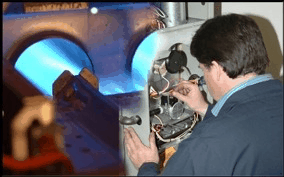 You'd never consider waiting for your car's engine to seize before going for an oil change, so why wait until your heating system quits (which is never convenient!) to have furnace maintenance done?
Winter is the busiest time for professional heating and cooling contractors. Why not have a professional inspection and/or a furnace maintenance performed on your furnace before the busy winter months? You'll be more likely to get an appointment quickly and at a time that suits you.
Do you know what a heat anticipator does? A properly adjusted one will keep you comfortably warm while saving fuel and money while one that's out of adjustment can cause annoying temperature swings in your home that also waste fuel and money.
It might seem like there's not much going on in your heating system, but today's carefully engineered HVAC systems allow numerous adjustments that can improve efficiency, function, and safety. Filters, safety equipment, feedback systems, and more can all be checked and brought into spec.
Maintaining your heating system rather than repairing it when it breaks will help keep your unit running efficiently, prevent delays in its repair, keep your family safe, and you get a reduced cost for the furnace maintenance.
Not only does a properly serviced and safety checked furnace contribute to trouble-free operation for the lifetime of that equipment, but also extends that lifetime.
Nobody wants to take chances with the safety of home and family – get your furnace inspected annually by a properly trained and licensed HVAC service professional and make sure to follow any maintenance recommendations made by the manufacturer and your technician.