Skagit

County Spaghetti piping
Boiler Spaghetti Piping.

At first look this boiler piping could be overwhelming to a service technician, especially someone not use to hydronics. But I have learned and try to teach not to look at the big picture, but rather dissect piece by piece and it will all come together.
Cross Pressurization

The initial complaint from the customer was about not having heat and there where issues with their domestic water. My first look at any boiler is the pressure and temperature. I noticed the boiler was running at 75lbs PSI and the PRV was popping off. I then noticed that the PRV was rated for 150 PSI ... not 30. So there was two issues i found right off the bat. I then found both the domestic and hydronic expansion tanks where also faulty. After turning off the feed to the boiler I noticed the PSI would not drop off ... My attention quickly went to the braford white indirect hot water tank. After several tests I found the coil within the tank to be faulty, bleeding high pressure into the boiler.
Conclusion
The domestic indirect tank had a faulty coil, allowing domestic pressure(75lbs) to bleed into the boiler system(30 lbs).  I found the PRV was not only the wrong size but the also was faulty. Tank was replaced under warranty and the PRV was replaced. All working correctly at this Skagit County Spaghetti piping job.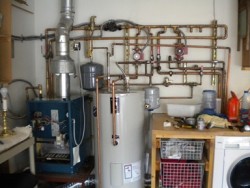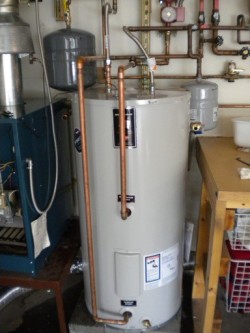 Write

a Comment
Fields with * are required