Subway

Roof Top Replacement
Subway Roof Top Replacement.

I honestly like subway sandwiches ... my favorite subway sandwich is the Subway Club with spicy mustard. But like most people I hate being in a hot restaurant, after all sitting in a nice air conditioned space is part of enjoying your meal.
Always warm at Subway

Subway has had problems from the first day they opened their doors, the space was always hot and uncomfortable, especially during the summer months . Turned out the RHEEM Air Conditioning unit was slightly undersized. And at this point worked so hard it finally gave up. I'm actually surprised it took this long seeing how poorly it was installed.
Rheem to Rheem

In all my years of replacing all types of HVAC equipment around Skagit county I have never in my wildest dreams thought I would see a roof top unit so far out of level. The installer had to be one of the luckiest guys around, considering the drain sloped towards the lower end of the unit. That being said the reason I went back to RHEEM for a replacement was because of the foot print and weight. We try to match up as close to the same dimensions and weight as possible, saving the customer time and money.
Curb modifications

As you can see in the photos we try to have very little roof or curb modifications as possible. If we would have added a curb adapter and or increased the size of the unit dramatically we would have pushed the limits of the engineered trusses. The trusses originally where designed for the weight and size of the existing unit.
Conclusion
In this Subway Roof Top Replacement installation we where able to replace the RHEEM roof top unit with a very close match to the existing units weight and dimensions. We improved on the efficiency and we where able to provide more air conditioning to the space.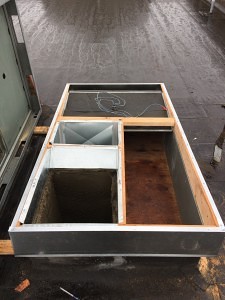 Write

a Comment
Fields with * are required