Furnace

Maintenance…in the Summer?
Summertime in the Skagit Valley
Life doesn't get much better than this. There is so much to do here in the summer, like the Skagit County Fair in August. The temperatures and humidity are usually in the comfort range. For the times they aren't, many of us have air conditioning to turn to. With so much to do in the summer, and no cold days or nights, it's easy to forget about furnace maintenance. Remember, though, the fall and winter will come…
At the time of this writing, late July, it's as hot as it gets here in the Skagit Valley of Western Washington state. Those of us with air conditioning are probably enjoying it for at least a couple hours most days. If you haven't had an HVAC professional out since last fall, this is a good time. One service visit can cover both air conditioning and heating maintenance. Therefore, a summer furnace maintenance from Alpine Heating and Cooling can stretch your HVAC maintenance dollar.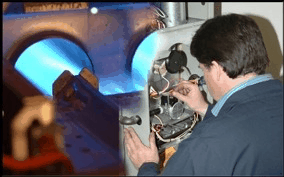 While it may seem silly to have your furnace maintenance done in the summer, there are several compelling reasons. While we're there, we can make sure your AC is running at top efficiency, saving you money all summer, and Alpine also has the most flexible scheduling right now.
Don't wait to schedule furnace maintenance until everyone cranks up their heating system at once in the fall. You might find yourself in a long waiting line to get a technician out to your house.
What Does a Summer Furnace Maintenance Include?
For a comprehensive, point-by-point list of what we do when we perform a furnace maintenance, please refer to our Annual Service page. For a more general overview, please read on. When it's running smoothly, it might seem like there's not much going on in your heating system; However, today's carefully engineered HVAC systems allow numerous adjustments that can improve efficiency, function, and safety. Filters, safety equipment, feedback systems, and more can all be checked and brought into spec.
Visual Inspection of the HVAC System
First, we'll check over the unit for broken, missing, or incorrect parts, substandard installation, obvious leaks, and code and safety issues. It is astonishing, the number of HVAC systems we see that include massive efficiency and safety problems (often easy to resolve) resulting from poor quality installations. Consequently, we always recommend checking the basics first.
Clean the HVAC Unit and Change the Filter(s)
Moving from winter into summer is an important time to check the cleanliness of your HVAC unit. After a long winter of closed windows, elevated indoor humidity, and poor ventilation and indoor air quality, your system's controls, filter(s), and ducting can be layered with dust and debris. Dust buildup on electronic components can cause overheating and premature failure. Plugged filters overwork fans and significantly reduce air movement while providing a breeding ground for bacteria and mold.
Depending on your filter's MERV rating, filters should be changed not less than every six months. A clean furnace filter is inexpensive insurance against poor performance, premature failure, and poor air quality in your home.
Electrical Checks
Checking the safety and integrity of the electrical supply to and throughout your HVAC unit is important. If the supply is inadequate or if safety cutoff equipment, like breakers and fuses, is missing or improperly sized, damage to your HVAC system or even catastrophic failure resulting in fire is possible. Rather than wonder, it's best to know.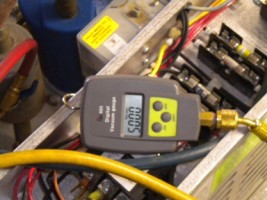 Summer Is a Great Time to Upgrade Your Furnace
If you've been considering upgrading to a more efficient unit, summertime is ideal. The leaps in efficiency and reliability in recent years are incredible. You won't have to shiver through even one cold night without heat, and you avoid the inconvenience and expense of a system failure in winter.
If your system is old and inefficient, call for a free estimate to replace it. We can even estimate the payback time based on the fuel savings you're going to enjoy.

DIY or Call a Professional?
As homeowners, it's important to many of us to maintain a level of self-reliance. Changing the filter in your HVAC system or installing a carbon monoxide detector are good for homeowners. Turning off the pilot light in your furnace for the summer is useful and safe. We all need to know our limits, so when one of Alpine's service trucks needs maintenance, we're not pulling out the furnace tools to give it a shot. So, we head to a professional mechanic!
Not everyone is or even can be an expert on how to maintain their HVAC system. If you are unsure if your system is in good condition or you aren't trained, call a professional. Alpine Heating and Cooling is fully licensed, insured, and bonded. We have years of experience to keep your HVAC system running right, and we want customers for life. We will work hard to earn your trust.
Call Alpine Heating and Cooling in Burlington, Washington at 360-755-5146 360-293-6210 for a free consultation over the phone or to schedule a furnace maintenance, HVAC repair, or upgrade. We can't wait to help you!
Write

a Comment
Fields with * are required