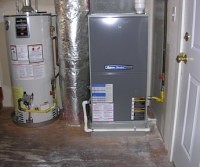 American Standard 95 .. again
I love upgrading customers equipment, here we upgraded our customer from a single stage 80% to a new American Standard 90 to 95 variable speed 2-stage gas furnace. Not only will this furnace run much quieter than their existing furnace, but it will also save them 5% more on their heating bill.
American Standard  is a Trane
The first picture is the older furnace and hot water heater. The Trane unit was and still is manufactured by American Standard.
Bradford White Tank
As you can see we also replaced the existing hot water heater with a new Bradford white water heater. I have installed many brands of hot water heaters, I prefer Bradford White. I will usually discount the hot water tank when replacing the furnace at the same time.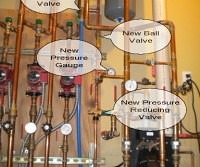 Bradford White combi-core
Bradford White combi-core not heating
Every once in awhile you come across a good install, but poor design. Here we have a Bradford White combi-core (Boiler) hwt. These tanks heat both the domestic and hydronic water without mixing the two. The first thing I look for when I'm called out on a no heat boiler call is water pressure, and in this case there was no gauge. Not only was there no gauge...there was no pressure relieve valve. I determined there was massive amounts of air in the system, the pressure regulating valve was shot (no water coming in), and their expansion tank was faulty.
What we replaced and added
I replaced the expansion tank, replaced the cheap pressure regulator valve, added a pressure relieve valve and pressure gauge. Now if they ever have issues again with their Bradford White combi-core at least the tech can see if there is pressure in the system ... and if the pressure gets to high it has a place to go. I also found a faulty Wirsbo zone valve, and of course replaced it as well.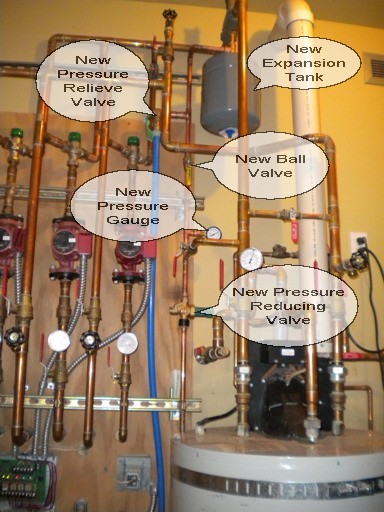 Payne Furnace Replacement To American Standard
Why Alpine Heating
I would say about 80% of my customers that do furnace replacements choose Alpine Heating And Cooling because they have been our customer for years and trust us, the other 20% do their due diligence on equipment before selecting us. Its always a nice feeling when a customer comes back because we carry American Standard and they want a quality piece of equipment.
Now you obviously can not tell just from the photo, but this furnace was just a little undersized for the home, fortunately the base can and the rest of the ducting was sized for the home. This made it fairly simple to do the replacement. It is not uncommon for heating companies to use the same base can for every application, this makes it easier for the fab shop and the crew setting the base can.
The new American Standard 95% Variable 2 Stage fit right on the older base can, I simply had to make a offsetting transition and reconnect. The venting had to be rerouted to the other side of the garage and a condensate line added, but other than that this was a fairly simple replacement.
Now in this case and well as many others We offered a discount to replace their hot water tank at the same time as I replace the furnace. In this case I replaced the older hot water tank with a new 50 gallon Bradford White Tank.
Need a Heat Pump, Air Conditioner, Furnace, Boiler or Tankless Water Heater? We install them all over Skagit county including Mount Vernon WA, Burlington WA, Anacortes, Sedro Woolley, La Conner, Stanwood WA, and on Camano Is.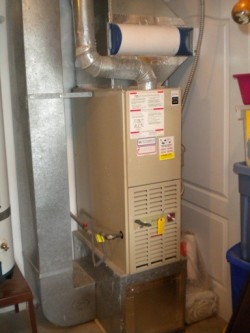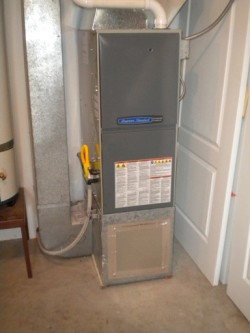 American Standard Furnace 80%
Like for like 80%
Here we have an American Standard Furnace 80% that was replaced with a new American Standard Furnace 80%. What we call "like for like". It is by far one of the easiest types of replacements, especially if its located in the garage.
Now in my opinion this furnace should have lasted a lot longer. One issue that caused a short life was a poorly sized filter system, a small filter gets clogged way to fast making it difficult for the owner to keep up with and then eventually causing high limit failures(over heating). Also if the furnace had been vented with double wall pipe instead of galvanized single wall pipe, there would have been less internally corrosion (white dust) that clogs up pressure ports and causes excessive wear on the inducer. We find this a lot in very cold garages.
Like for like 80% cont.
Here you see the new American Standard furnace and a Bradford White hot water tank installed. The new equipment is vented with type B double wall venting that will eliminate internal corrosion. We also added a Honeywell filter system.
And as you can see the Honeywell F100 4" fits perfectly on top and usually provides annual protection but I do recommend checking every 6 months.
Need a Heat Pump, Air Conditioner, Furnace, Boiler or Tankless Water Heater? We install them all over Skagit county including Mount Vernon WA, Burlington WA, Anacortes, Sedro Woolley, La Conner, Stanwood WA, and on Camano Is.
Boiler Spaghetti Piping.

At first look this boiler piping could be overwhelming to a service technician, especially someone not use to hydronics. But I have learned and try to teach not to look at the big picture, but rather dissect piece by piece and it will all come together.
Cross Pressurization

The initial complaint from the customer was about not having heat and there where issues with their domestic water. My first look at any boiler is the pressure and temperature. I noticed the boiler was running at 75lbs PSI and the PRV was popping off. I then noticed that the PRV was rated for 150 PSI ... not 30. So there was two issues i found right off the bat. I then found both the domestic and hydronic expansion tanks where also faulty. After turning off the feed to the boiler I noticed the PSI would not drop off ... My attention quickly went to the braford white indirect hot water tank. After several tests I found the coil within the tank to be faulty, bleeding high pressure into the boiler.
Conclusion
The domestic indirect tank had a faulty coil, allowing domestic pressure(75lbs) to bleed into the boiler system(30 lbs).  I found the PRV was not only the wrong size but the also was faulty. Tank was replaced under warranty and the PRV was replaced. All working correctly at this Skagit County Spaghetti piping job.