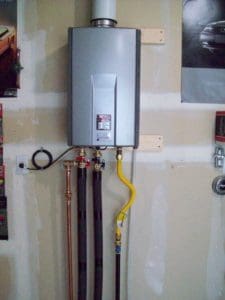 This is a common question that is often asked by homeowners who have never used this type of water heating equipment in the past. In essence, this kind of water heater allows you to have instant access to hot water on demand. This does not mean that the water is hot the very second you turn on the tap. It does take a few minutes for the hot water to reach the tap just like when using a tank system. What makes a tankless system different is that it does not store water and heat it up over and over again throughout the day and night.
Wherever Hot Water is Demanded
For better efficiency and energy savings it only heats water when the tap is turned on and water is flowing through the pipes. A tankless water heater can be powered by propane or gas and once the water is heated it travels along pipes to faucets wherever hot water is demanded. As a note, tankless water heaters that are gas powered must be vented through an outside wall. This is different as compared to a tank type water heater where venting typically is directed up and through the attic.
Gas and Water Pipes
In terms of cost management keep in mind that the venting system for a tankless hot water can be quite expensive and in some cases can cost as much as the water heater itself. Always choose to have a professional electrician and plumber install this kind of system in your home. This is especially true considering the fact that gas and water pipes must be correctly routed to allow for the new system to work properly. Even the electrical connections must be installed professionally to ensure that there is never a fire danger or other problems that may arise later. Finally, tankless water heaters can also be powered electrically and are somewhat different than propane or gas powered type tankless water systems.
Professional Electrician and Plumber
This type of electrically powered arrangement works by using heating elements that are located inside the pipes that heat water as it passes by. One advantage of using electrically powered tankless water heaters is that there is no venting required of the system. This is convenient because it means that this version of the system can be placed just about anywhere in your home. As a note, you will still require a professional electrician and plumber to ensure that the system is installed in the right way. Contact Alpine Heating & Cooling today to learn more about Burlington Washington tankless water heater installation services.
Saving money is more important today than it has ever been in the past. This is especially true when it comes to improving the efficiency of an existing home heating or cooling system. First it is important to understand that most heating and cooling systems are not created the same. Different systems will produce different results and can have varying levels of efficiency. Simply stated, always make a smart decision when installing an HVAC system in your home as a way to keep utility bills as low as possible without sacrificing comfort.
Heating and Cooling Costs
It is important to note that in most typical residential homes, heating and cooling costs can account for almost half of a total monthly energy bill. Those with units that are older than 10 years old should consider replacing them with an Energy Star compliant system. This simple money saving strategy alone can save a homeowner upwards of 30% or more on annual heating and cooling costs. For the absolute best in seasonal energy efficiency, few other types of HVAC systems can compare ones that are fully Energy Star compliant.
Replacing Equipment
When it comes to replacing a central heating or cooling system here are a few other useful money saving tips worth considering. For example, anytime equipment requires frequent and costly repairs or energy bills are steadily on the rise it may be time to replace your existing system. In addition, when replacing equipment always select energy-efficient systems that meet smart energy saver standard programs or that offer rebate programs or other standard rebates. Many homeowners are surprised to find that this can help offset the cost of replacing an entire HVAC system. While high-efficiency systems can be more expensive initially, the cost will almost always be offset and paid back over time in the form of lower annual energy costs.
Annual Inspections
Finally, regular maintenance can be extremely helpful in preventing future heating and cooling system related problems. Work with an experienced and knowledgeable team of professional HVAC technicians to ensure that your system is properly maintained year-round. Having annual inspections of your system and occasional cleanings can ensure that it lasts longer and performs better. Springtime is the perfect time to check your heating system for possible failure. Contact Alpine Heating And Cooling today to learn more about Mount Vernon Washington heating and cooling services that get results.