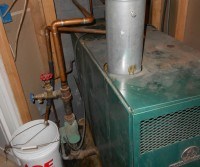 Anacortes Boiler Replacement, Iron Fireman To Navien

This Anacortes Boiler Replacement project involved this monster of a boiler, this boiler was burning massive amounts of fuel oil to keep my customers home heated, costing them dearly. They felt it was time for a change to something way more efficient and reliable.
A Test Of Time

When ever I remove a old unit like this I try to imagine what the installers where like, where they young or old? And or perhaps how much effort went into installing such a beast back then. At that time this was cutting edge equipment and they where probably extremely proud of the installation.
The Navien Combi/tankless Unit

As you can see the new Navien CH-240 Combi/tankless unit takes up very little room compared to the older monster of a boiler ... and not only does it heat the home, it heats the hot water as well. I have installed a few of these now with very little issues. They work exactly how they are advertised. The only draw back with this Anacortes Boiler Replacement is that it takes a little longer to get hot water compared to the standard Navien NR-210a tankless.
Conclusion
This Anacortes Boiler Replacement turned out great for our customer, the Navien heats both the home and the hot water(endless) and is super efficient. This is one of my favorite installations and I highly recommend doing this for anyone in the same situation.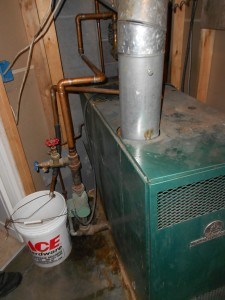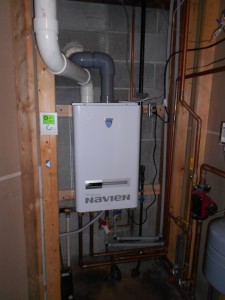 Navien Combi Boiler Weekend Home
Navien Combi Water Heater
At first glance I was taken back a little by the material being used in this water heater system. I have never seen black rubber hose being used in a in-floor application. It was not only the rubber hose being used but the size of the hose, 1/4" Id just does not seem like a lot of surface area to me for in-floor.
The black hose simply pushed into the copper pipe to make a manifold, the pressure of the system keeps its sealed. My research concludes that 45psi is the max these connections could hold back. We are running 12 to 20 psi.
  Here you can see the older Combi-Core water tank that was used to heat both their domestic as well as there hydronic heat. The mixing valves being used appeared faulty and both expansion tanks where bad.
Navien

Combi Water Heater ... cont.

Navien has really out done themselves in my book with the Navien Combi Water Heater. This unit not only heats your domestic water, but also heats your home ... all in the same box.

 The Navien CH-240 tankless bolted right up on the exterior wall and really was plug and play, well of course we had to build a primary manifold and modify the existing loop to be a secondary loop ... but not to complicated.

 We controlled the Navien Combi Water Heater boiler system with the new ecobee Wifi thermostat, this way my customer can change thermostat settings from a remote location. And this being a weekend home it will work out great.

 
I find it rather amazing how far along the technology has gotten with these ductless mini-split units, from the DC motor inverter to the intelligent eye (infrared sensor) ... truly amazing.
Here you see the outdoor section of the Daikin heat pump system that we installed in to a existing log home that is in a middle of a remodel. My customer really only wanted to deal with 3 sections of the home, a ductless mini-split system works perfect for this.
For each Zone we used a Daikin indoor unit with inverter technology. An added feature is the infrared sensor that lets the unit know when people are not present within the room being served, automatically switching to the high efficient mode.
Navien Tankless Water Heater
The Navien NR-210a tankless water heater fit perfect in to this log home application. We utilized an outdoor closet so no room was taken up in the home. Running both the vent and combustion air up through the existing roof. A few modifications to the existing gas line and we are ready for hot water. And because of the circulation pump option on the Navien my customer will have virtually instant hot water at the furthest point of the home.