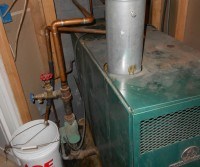 Anacortes Boiler Replacement, Iron Fireman To Navien

This Anacortes Boiler Replacement project involved this monster of a boiler, this boiler was burning massive amounts of fuel oil to keep my customers home heated, costing them dearly. They felt it was time for a change to something way more efficient and reliable.
A Test Of Time

When ever I remove a old unit like this I try to imagine what the installers where like, where they young or old? And or perhaps how much effort went into installing such a beast back then. At that time this was cutting edge equipment and they where probably extremely proud of the installation.
The Navien Combi/tankless Unit

As you can see the new Navien CH-240 Combi/tankless unit takes up very little room compared to the older monster of a boiler ... and not only does it heat the home, it heats the hot water as well. I have installed a few of these now with very little issues. They work exactly how they are advertised. The only draw back with this Anacortes Boiler Replacement is that it takes a little longer to get hot water compared to the standard Navien NR-210a tankless.
Conclusion
This Anacortes Boiler Replacement turned out great for our customer, the Navien heats both the home and the hot water(endless) and is super efficient. This is one of my favorite installations and I highly recommend doing this for anyone in the same situation.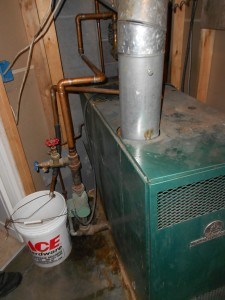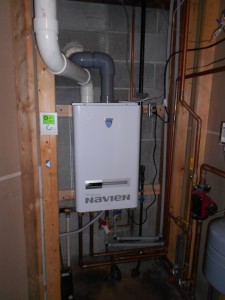 Arbys in Oak Harbor had 2 out of their 3 packaged air conditioners go down, both units suffered similar failures that where very costly to repair. Arbys elected to replace both units with 2 brand new Lennox Gas Packs.
The Trane gas packs served the front counter and the dining area. Unfortunately these units went down right before winter.
Because the new units will not fit on the existing curbs some special curb adapters(above) had to be fabricated. There are actual companies that specialize in making these adaptors for different types of HVAC equipment.
With a little help from Mount Vernon Towing we had the old Trane units removed from the roof and the new Lennox units put on.
Here you can see the existing curbs that the new curb adaptors fit on to. The only draw back from using curb adaptors is it actually raises the units up about 22″. The other method is to remove the existing curb and installing a new one.
The new units sat right on to the new curb adaptors. We reconnected up to the existing gas pipe and installed the new economizers and smoke detectors. Arbys again has heat and air conditioning.
Heating And Cooling Skagit County
Need a Heat Pump, Air Conditioner, Furnace, Boiler or Tankless Water Heater? We install them all over Skagit county including Mount Vernon WA, Burlington WA, Anacortes, Sedro Woolley, La Conner, Stanwood WA, and on Camano Is.