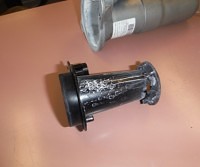 If you own a Weil Mclain Ultra Boiler, this article is for you.
We have a customer in Anacortes WA with a WEIL McLAIN Ultra Boiler 105. Their boiler is propane (LP), uses a side wall termination kit provided by WEIL MCLAIN and is on the coast pulling in salt air for combustion. This particular boiler has given us trouble for many years. Usually boiling down to a bad air fuel mixture, but on occasion we had to replace parts. All done with tech support on the phone.
WEIL McLAIN Ultra Boiler Venturi

This last service call shed some light on some of the issues, the venturi was compromised, literally falling apart. When we contacted tech support about the venturi they stated that the venturi only has a life expectancy of 5 years! Not only where we shocked to hear the 5 years, we where even more shocked that the existing venturi was replaced by Alpine Heating And Cooling only 2 years ago.
High Maintenance

If you own the WEIL McLAIN Ultra-105 boiler or considering purchasing one, keep in mind they require a yearly maintenance. The yearly maintenance has to be done with a kit that they supply, that kit is expensive and the labor to perform this maintenance is extensive. Also keep in mind that every 5 years you maybe buying the ULTRA-105 gas valve replacement kit #383-501-030, also very expensive. On a final note we share service information with another service contractor in our area, they as well are having issues with another  WEIL McLAIN Ultra boiler ... but model Ultra 80. So we don't know if this problem is just for the model 80 and 105 or spreads to all sizes.
Conclusion
The WEIL McLAIN Ultra boiler is not a boiler Alpine Heating and Cooling recommends, especially if you're LP and or living on or near salt water. Keep in mind the boiler is a high maintenance and is very expensive to repair.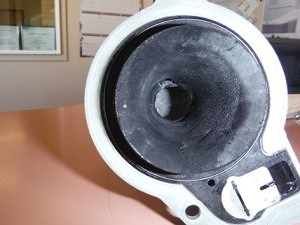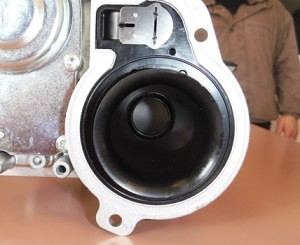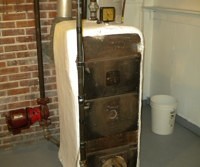 This Monster had to go
I do not know any other way to describe it, the older American Standard boiler was originally an oil fired boiler that had been converted to natural gas. Just to let you know one of the worst efficient systems out there are oil systems that have been converted over to gas...bad bad bad. This particular boiler I am guessing at 40% efficiency at best... and I'm being nice.  The boiler weighed well over 800lbs and took 2 vans, 3 men and a block and tackle to get it out of the basement and into a van.
Weil McLAIN Boiler have come along way
As you can see the new Weil McLAIN Boiler  #CGA is not only half its size, its 83% Efficient, more BTU's, quieter and 2 men can carry it. How is that for technology!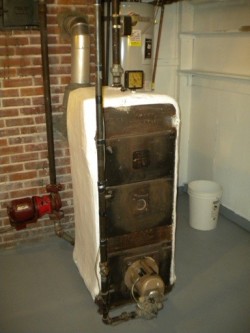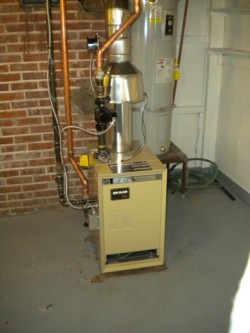 I have found especially with customers with boilers, a safety replacement factor. Meaning the customer has lost faith that their boiler is a safe peice of equipment, regardless of how much money they can throw at it…. for their peice of mind they really would prefer to replace it.
In this case the boiler had experienced a flame roll out, meaning flames rolled out of the burn chamber and shorted out the igniter wires, this of coarse sent a electrical burning smell throughout the home. After inspection and talking to the home owner we both came to the conclusion it was time for replacement.
Above is the Weil Mclain boiler that is 28+ years old, even though the cast boiler section is sound, most of the components are still 28+ years old. Never mind looking into the reason for the flame roll out … more than likely a plugged section in the boiler.
As you can see the new Weil Mclain boiler slid right into place. The pump, zone valves, thermostats, drain valves and expansion tank where all replaced at the same time. We added Dielectric unions to the supply and return lines.
Heating And Cooling Skagit County
Need a Heat Pump, Air Conditioner, Furnace, Boiler or Tankless Water Heater? We install them all over Skagit county including Mount Vernon WA, Burlington WA, Anacortes, Sedro Woolley, La Conner, Stanwood WA, and on Camano Is.
A bomb in the making, a 35 year old hydronic boiler with failed safeties converted this low pressure water boiler to a high pressure steam boiler. Fortunately no one got hurt when this boiler decided to shake the house and let everyone know it was time for it to be replaced!
Boilers to me are the most fascinating piece of equipment in the Heating world, but not just the boiler itself… the entire hydronic system in the home. Every hydronic system is unique in design and a challenge to diagnose at times. But in this case its was very obvious what needed to be done…replacement.
The new Weil McLAIN CGa boiler fit right into position, the access was no longer from the side facing the HWT but towards the front. This gives the service technician better access. The new Pressure/Temperature gauge now is visible. I added dielectric unions to fight electrolysis's …and also added shutoff valves.
Need a Heat Pump, Air Conditioner, Furnace, Boiler or Tankless Water Heater? I install them all over Skagit county including Mount Vernon WA, Burlington WA, Anacortes, Sedro Woolley, La Conner, Stanwood WA, and on Camano Is.