If

Your Water Heater Fails Be Prepared But Don't Panic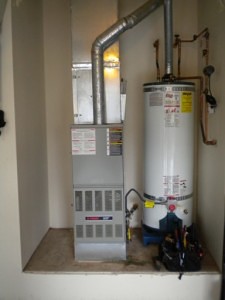 Water heaters are very dependable today, however even the best-built water heater will eventually fail at some point in time. Few people realize how much they count on a water-heating unit until the day that it actually stops working. Here are a few smart tips on how to handle the failure of a water heater in your home. Perhaps the most essential thing to remember is that when one does indeed fail it is important to get it fixed as quickly as possible. Whether you have an electric or gas unit, time is of the essence so plan on getting it fixed as soon as you can.
The Tankless Variety
Keep in mind that those with a storage tank style water heater that has failed may have the perfect opportunity to switch to a more efficient and more reliable system known as a tankless water heater. It is also worth noting that gas water heaters of the tankless variety are considered to be one of the most efficient types of water heating units available today. While it is true that tankless models tend to be pricier than conventional storage tank type water heaters, they will pay for themselves over the long term when it comes to energy savings and long-term reliability.
Mount Vernon Washington Water Heater Repair
When the day finally does arrive where a water heater does actually fail, remember that calling, as soonest possible, for help from a professional in the field will reduce the inconveniences that you may experience. In most instances once you have a professional in your home working on the problem it can be repaired in the same day having your home back to normal quickly. Whether a water heater fails completely or simply has a troublesome leak, calling in a professional is the best way to resolve the problem. Keep in mind that more serious cases where there is a sub floor that has rotted through or severe water damage has occurred may require additional time to resolve the situation, as would be expected.
Difficult To Access
Finally, one big concern that people have when a water heater unit does fail is that of cost. Remember that repair costs will depend primarily on the type of gas or electric water heater that you decide to replace the failed unit with and how easy it is to install. One example is when a water heater is hidden in an area of the home that is difficult to access. When this is the case, installation and repair costs can be considerably more than if a water heater is conveniently located out in the open in a garage, for example. Contact Alpine Heating & Cooling today to learn more about water heater repair in Mount Vernon Washington. Help is just a call away!
Write

a Comment
Fields with * are required