York

and American Standard
York and American Standard combination
Once in awhile you mix and match the equipment, meaning the indoor coil and furnace, like this York and American Standard match up. And usually its because the existing furnace is fairly new like this York 80% gas furnace that's only 9 months old. As long you have the proper airflow and your equipment can match up physically without causing improper air flow it will work just fine. Keep in mind you should still match up your indoor coil and air conditioner.
American Standard Color
I have to admit that somehow the folks down at American Standard have picked the perfect colors for their equipment. I have yet to see one of their air conditioners or heat pumps  stick out, they seem to always match up to the home. I wish the refer pipe cover would come in the same color, well at least its paintable.
American Standard Air Conditioner
I can not tell people enough how much I prefer American Standard over any other brand, usually I will install a less expensive piece of equipment IF the customer is on a budget, its a manufactured home and or American Standard simply will not match up to the existing furnace. I feel American Standard is a better built piece of equipment, that's just not my experience talking but also consumer reports over the last 6 or so years.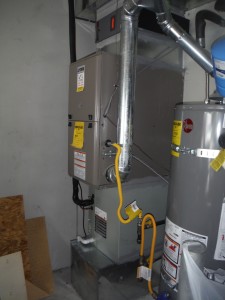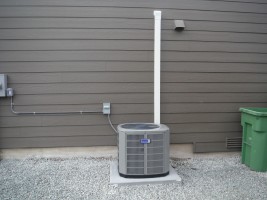 Write

a Comment
Fields with * are required